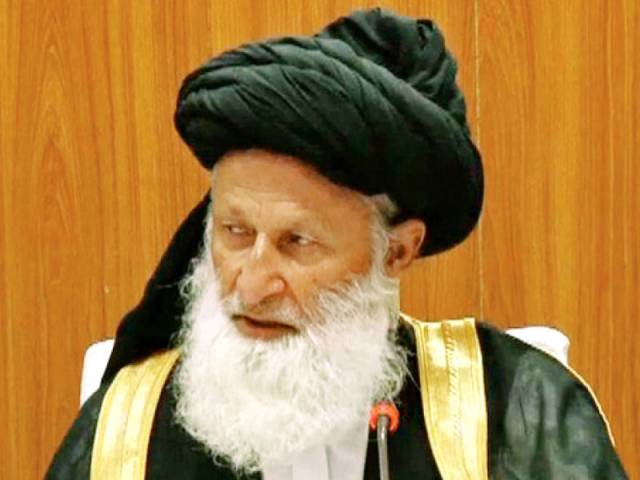 ---
ISLAMABAD/ LAHORE: After the top constitutional body on Islamic laws recommended 'a light beating' for women' sparking outrage, the body's chairman softened his tone stating 'violence' is not permissible in the religion.

"Do not try to relate our proposal (on beating women) with violence. Light beating does not mean violence," explained Council of Islamic Ideology (CII) Chairman Mualana Muhammad Khan Sherani after a press briefing in Islamabad on Thursday.

CII proposes husbands be allowed to 'lightly beat' defying wives

"The issue has been blown totally out of proportions. Everyone condemns violence. People need to be educated to stay away from violence."

He added that both men and women should refrain from inflicting physical violence on one another. But the CII chief did not back down on the council's recommendations that 'light beating' of wives was permissible.

"If you want her (a wife) to mend her ways, you should first advise her," Maulana Sherani explained to The Express Tribune after his press conference. "If she refuses, stop talking to her. Still if she does not show compliance, stop sharing a bed with her, and if things do not change, get a bit strict."

Maulana Sherani went on to detail what he meant by 'beating'. "Hit her with light things like handkerchief, a hat or a turban, but do not hit her on the face or private parts. And the beating should not cause any kind of physical damage or even scratches. Resort to light stuff, nothing serious."

CII rules women's protection law 'un-Islamic'

Earlier during the press briefing, Maulana Sherani avoided a direct response to queries regarding CII's proposal on slight physical punishment of women




"The reality is, there are some individual and some collective responsibilities on a man," he said. "Tell me, why do the governments follow the policy of reward and punishment? It is for the collective good of all. Similarly, husbands have some rights that are for the collective benefit of society.....but fathers or husbands do not have permission to cause physical damage to their daughters or wives.... They should avoid inflicting any kind of physical injuries."

To a query whether he deemed it permissible for women to beat men, Sherani made light of it. "If women start beating their men in the head, the men would get bald," he joked before going on to say "Both men and women should refrain from violence."

Religious groups say law protecting women from abuse 'un-Islamic'

The CII chairman also commented on the inclusion of women in the armed forces noting that they cannot be "dragged into defence-related matters." However, he said women can join the defence services and security departments out of their free will following mutual consultation with husbands or fathers. He also implied an endorsement of professional training of women in defence or security services by male trainers. "Exploitation should not be there."

Punjab differs on CII proposal

Female members of the Punjab Assembly on Thursday dismissed the CII set of proposals noting that it differs widely from the Punjab law.

"Through their proposed recommendations they have reflected their mindset," said Raheela Khadim, chair of the Punjab Assembly's standing committee on gender. She also called for reviewing the legal space in which CII exercised. "We are talking about holding wife beaters accountable and they are proposing something in complete contrast" she added.

Published in The Express Tribune, May 27th, 2016.
COMMENTS (29)
Comments are moderated and generally will be posted if they are on-topic and not abusive.
For more information, please see our Comments FAQ