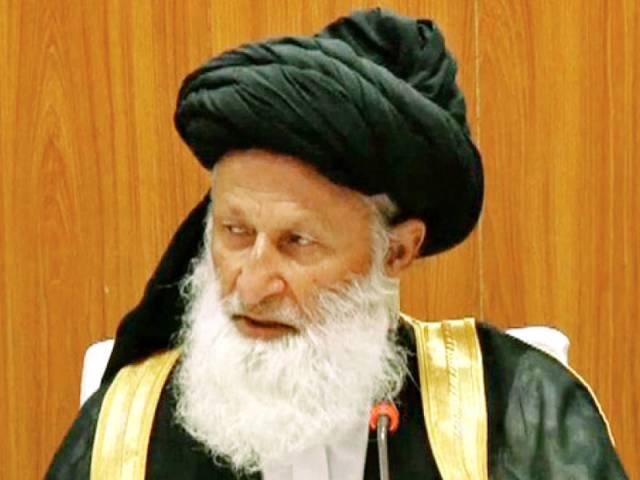 ---
ISLAMABAD: Council of Islamic Ideology (CII) that advises the government on the compatibility of laws with Islam on Thursday declared a new law that criminalises violence against women to be "un-Islamic."

The Women's Protection Act, passed in Punjab Assembly last week, gives unprecedented legal protection to women from domestic, psychological and sexual violence. It also calls for the creation of a toll-free abuse reporting hot line and the establishment of women's shelters.

Some parts of K-P domestic violence bill against spirit of Islam: CII chairman

But since its passage in the assembly, many conservative clerics and religious leaders have denounced the new law as being in conflict with the Quran, as well as the constitution.

"The whole law is wrong," Muhammad Khan Sherani, the head of CII said at a news conference, citing verses from the Quran to point out that the law was "un-Islamic."

The 54-year-old council is known for its controversial decisions. In the past it has ruled that DNA cannot be used as primary evidence in rape cases, and it supported a law that requires women alleging rape to get four male witnesses to testify in court before a case is heard.

The council's decision this January to block a bill to impose harsher penalties for marrying off girls as young as eight or nine has angered human rights activists.

Women protection bill will cause divisions within families and increase divorce rate: JUI-F chief

The new law establishes district-level panels to investigate reports of abuse, and mandates the use of GPS bracelets to keep track of offenders.

It also sets punishments of up to a year in jail for violators of court orders related to domestic violence, with that period rising to two years for repeat offenders.

Fazlur Rehman, the chief of one of Pakistan's largest religious parties, the Jamiat-i-Ulema Islam, said the law was in conflict with both Islam and the constitution of Pakistan.

"This law makes a man insecure," he told journalists. "This law is an attempt to make Pakistan a Western colony again."

'Khula' without husband's consent is un-Islamic: CII

In 2013, more than 5,800 cases of violence against women were reported in Punjab alone, the province where Wednesday's law was passed, according to the Aurat Foundation, a women's rights advocacy group.

Those cases represented 74 percent of the national total that year, the latest for which data is available.
COMMENTS (8)
Comments are moderated and generally will be posted if they are on-topic and not abusive.
For more information, please see our Comments FAQ