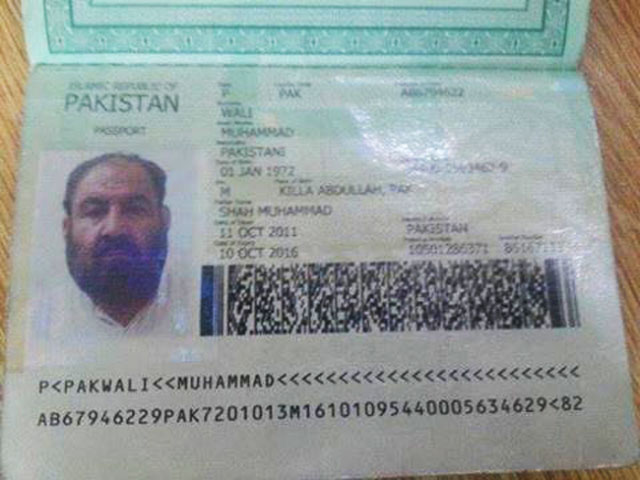 ---
QUETTA: The Federal Investigation Agency (FIA) apprehended on Wednesday Additional Deputy Commissioner Revenue Rafiq Tareen on the charges of verifying Muhammad Wali's Computerised National Identity Card (CNIC). Wali is suspected to be slain Taliban supremo Mullah Aktar Mansour.

According to reports, Tareen was taken into custody by FIA officials for verifying Wali's CNIC during his tenure as tehsildar Chaman, the capital of Qilla Abdullah district in Balochistan, in 2005.

Mullah Mansour or Muhammad Wali: Fake name but genuine credentials on CNIC

Wali's passport and CNIC were found at the site where Afghan Taliban chief who was reportedly killed in Balochistan by a US drone strike on May 21. Thus, the victim was identified as Wali, who is a resident of Karachi.

The National Database and Registration Authority (Nadra), which issues computerised identities to Pakistani citizens, also facilitates verifying the basic credentials via short messaging services (SMS).

When forwarded Wali's identity card number 54400-0563462-9 at 7000 – a service to verify the CNIC holder's name, the reply is: Muhammad Wali, son of Shah Muhammad.

The voter registration details of any CNIC number can be obtained through a text message to 8300. Wali's number shows he was a registered voter with the serial number 38, block code 454050104, ward number 31 in Chaman Municipal Corporation union council of Qilla Abdullah district.

Afghan Taliban elect Mullah Mansour's successor, confirm death in US drone strike

While getting an identity card is a struggle for many Pakistani citizens, especially those living in districts other than their permanent address, the fact that Wali was able to get a Pakistani CNIC as well as a passport raises quite a few questions.

According to the "current address" mentioned on the CNIC, Wali lived in Flat Number B-016 of Bismillah Terrace, Plot Number FL-03, Karachi.

Interestingly, the address does not include the area of this residential building, which is actually located in Gulzar-e-Hijri, Karachi.