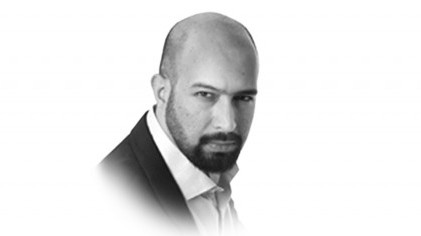 ---
I'm on a working vacation. That means I have lots of options to do several things I can't afford. These include movies. I've watched four flicks in four days. I'm broke, but thrilled. The Green Zone was particularly resonant. The plot is simple: It's 2003. Chief Warrant Officer Miller, US Army, played by Matt Damon, decides to make things right when he discovers that the premise of his country's invasion of Iraq is flawed. There are no WMDs.

The American administration has chosen to fight a war it was itching for. The post-screening review with my wife was even more resonant. "What if the 'shock and awe' came to Pakistan? We have nukes and an inept government too," she said. "What's stopping the Americans?" "But we're not Iraq. We have a more developed polity, a vibrant press… and our military is in touch with theirs," I defended. "But they actually managed to pull Iraq off! The UN didn't matter, nor did the lack of allies.

In the end it just took a couple of guys in the White House to declare war." She said it first. Wars are fought by states. Behind the states are institutions. Behind the institutions are actors. They decide. And history happens. In geo-political terms Chief of Army Staff General Ashfaq Parvez Kayani is probably the most important man (thus, actor) in Pakistan. That means he is probably one of the most important men/actors in the world. The bearers of information know little about Kayani, yet obsess over minutiae him.

From his chain smoking, to his humble roots, to his golfing, the press does its best to size him up. America's military leader, Admiral Mike Mullen, when asked about what he thought about his relationship with Kayani, referred to the non-fiction bestseller: "It is said in that part of the world, after one cup of tea, you are strangers. After two cups you are friends.

And after three cups of tea, you become family. I'd like to believe I am working on at least my second cup of tea with him.' Wow. America's most powerful warrior has gone on record that he wants to be friends with our most powerful warrior! So what do we have to fear from the Americans (and their alleged Blackwater/de-nuking/ colonisation-via-KLB hocus pocus)? Nothing. If we follow the political science theorem of actors, as long as General Kayani wears four stars, nothing. Consider.

General Kayani has critically influenced the reshaping of America's diplomatic approach to Pakistan: I like to call it 'dual diplomacy'. That means that not just the 'civilian diplomats' (Holbrooke, Gates, Clinton) touch base with him whenever they are here, but the 'military diplomats' (Mullen, Petraeus, McChrystal) do too. This is a rarity. America doesn't send its soldiers to do the government's job, especially Democrat administrations.

But Kayani is such a vital factor in the 'Af-Pak' equation that this unique approach has been tailored just for us. Remarkably, Admiral Mullen has actually acknowledged Pakistan's concerns about India's alleged involvement in Balochistan, and even discussed it informally with the Indians. The cups of tea may have paid off! The general also seems a more proactive administrator compared to the civilian government. A week before the strategic dialogue in Washington last March, he chaired a meeting of top federal secretaries to mull over the agenda for the critical summit.

It was unprecedented, but required. The prime minister house wasn't interested in doing it, nor was the foreign ministry. So if it all boils down to actors, then we have the right guy, even the right guys, calling the shots: Kayani seems 'on it'. He and Mullen are pals. Mullen and Gates respect each other (the latter hired the former). Gates and Obama are on the same page (the latter retained the former from a previous administration). Obama has co-authored a massive aid bill for Pakistan, visited Karachi as a student and even enjoyed sampling qeema and daal.

Given the circumstances, it's the perfect balance of actors for Pakistan-American ties. But to borrow a line from another fantastic movie I just saw (Alice in Wonderland), any alterations to this strong cast would only make life "curiouser and curiouser" in Pakistan. No offence meant to eccentrics, but Mad Hatters are not welcome here.