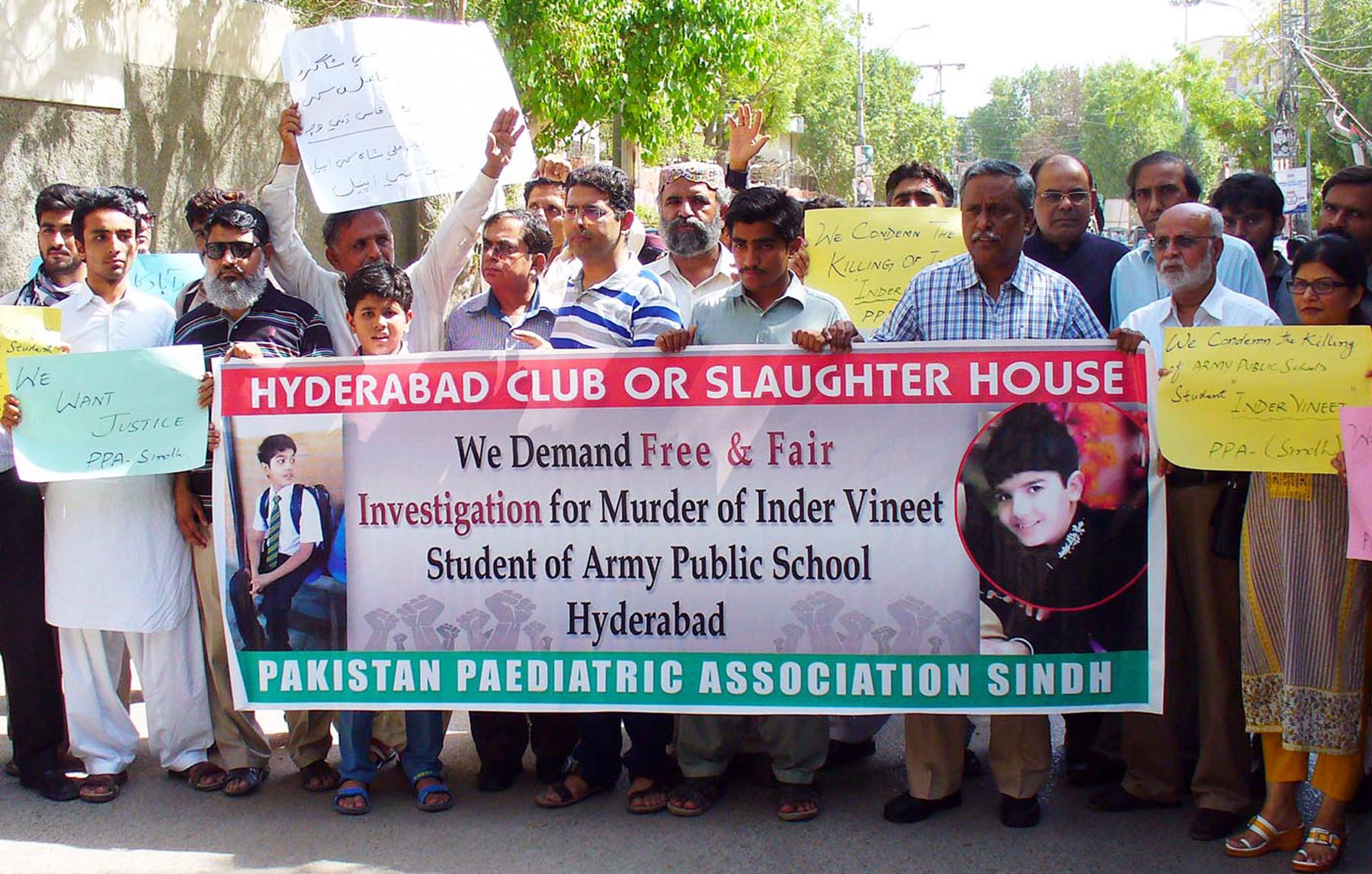 ---
HYDERABAD: The controversial case of 11-year-old Inder Vanit Hotwani's death, who allegedly drowned in a swimming pool, is gaining support for a high-level probe to determine the actual cause of death.

The Hyderabad Club management claims the victim drowned, whereas his family claims he was murdered and alleges a cover up.

14-year-old schoolboy commits suicide in Peshawar over marriage refusal

On Sunday, leading paediatricians accompanied the aggrieved father, Dr Chetan Das Hotwani, at a press conference at Hyderabad Press Club, demanding an inquiry from a judicial commission.

Some chapters of the Hindu Panchayat as well as rights activists have already echoed the family's concerns.

"We believe that Inder was subjected to rape but he was killed because he resisted. His body was later thrown in the swimming pool," alleged Dr Hotwani at the press conference.

On April 13, when the incident occurred, the club administration called the victim's parents to tell them that Inder had drowned while swimming.

The police registered a murder case on the family's complaint on May 2 and later arrested two lifeguards working at the club.

"The police entertained the suspects as guests. After taking [them into] just one-day physical remand, they allowed him to go to jail [on the judicial remand]," complained Dr Hotwani.

AKU student commits suicide in same room as 2010 case

ASP Suhai Aziz, who has been assigned inquiry of the case, denied this charge. She said the police requested the court for a 14-day physical remand but their plea was rejected.

The ASP said police are recording statements of doctors with regards to bruises or contusions on the boy's body, which may establish that he was beaten or tortured. She added that the Federal Investigation Agency has been provided record of the club's closed-circuit television footage to retrieve the data.

"We are also trying to find eyewitnesses [from the club] but there are no entries of that day in the register that records the names of swimmers," she informed.

Hyderabad SSP Irfan Baloch is of the opinion that the case is weak, as a post-mortem on the boy was not conducted before his cremation.

Published in The Express Tribune, May 9th, 2016.

 
COMMENTS (5)
Comments are moderated and generally will be posted if they are on-topic and not abusive.
For more information, please see our Comments FAQ