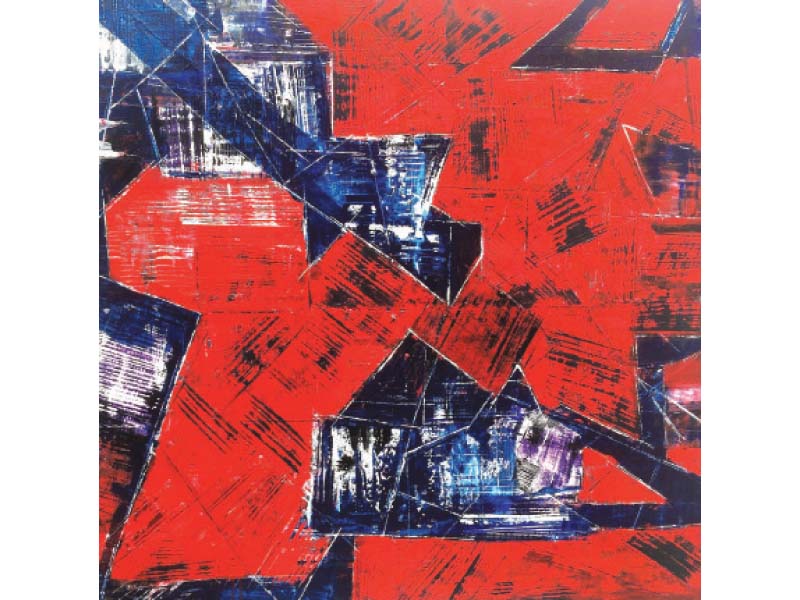 ---
ISLAMABAD:



An exhibition featuring artwork with a beautiful experimentation of not just different mediums but also of a ranging colour palette went on display at My Art World on Friday.




The show titled 'Covert Conversations' displays mixed media, acrylics and ink on paper and oil on canvas by Ujala Khan, Ghaffar Jatoi and Sana Dar. From bright shades to darker hues, a wide range of colours is used. The work displayed is also abstract, which means every viewer takes home a different perception.

Dar, who hails from Lahore, said that she feels like painting grounds when she does meticulous pen work or stencilling and liberates her when she applies paint on the surface and form textures. "All my pieces have layered meanings and contexts. On one hand, the viewer has the liberty to experience his own instinctive response on first glance. The boldness of the paint in contrast to the delicate details around it, along with the title, then begin to weave a story for the viewer, enabling him to ponder on its deeper message," she said.

On the other hand, Khan's artistic process started out by studying about art and examining works of abstract expressionist artists. It was not until last year when she began going full-time on her artwork. She said that the best thing about art was that it takes you from here to somewhere else, leaving you with a sense of freedom and empowerment that one yearns for. "My work encourages bias of form and the positioning of strong and bold colours to convey human emotions. It focuses on leaving an impact by evoking a memory from the viewer's background by connecting relevance to feelings and initiates an emotional response through distortion and exaggeration rather than composition," she added.

Jatoi, who has added a lot of bright hues to his work, said that colours express his thoughts and feelings. "Sometimes they speak to me. In my first year as a student, I learnt the tones of colours and how they make colour from primary to tertiary and how they convey the message. I am very inspired by nature and my surroundings. As an artist I feel everything through colour, like the writers write poetry and stories from words. I capture time and portray each moment through mixed colours from sun rise to sunset," he said.

Zara Sajid, curator at the gallery said the beauty of abstract art lies in the fact that it is open to interpretation. "Abstract art never jumps out and declares its meaning. Instead, it requires you to have an open, inquiring mind. You must enter the painting and see where it takes you. Through this collection of paintings, the artist gives you the freedom to explore the artwork and assign your own meaning to the piece. This intensely personal process enriches a viewer's experience of an artwork," she said.

The exhibition is ongoing till May 13.

Published in The Express Tribune, May 8th, 2016.
COMMENTS
Comments are moderated and generally will be posted if they are on-topic and not abusive.
For more information, please see our Comments FAQ