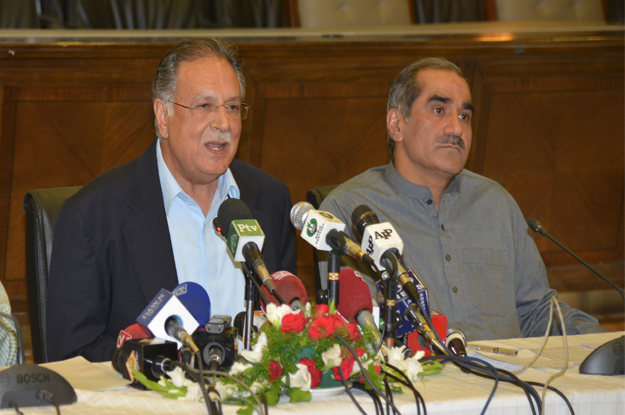 ---
LAHORE: Stung by the scathing criticism of the Pakistan Tehreek-e-Insaf chairman, the ruling party hit back on Sunday, accusing Imran Khan's aides of getting loans waived and sending money abroad.




Speaking at a news conference at the PML-N Secretariat, Information Minister Pervaiz Rashid said two close aides of Imran, who were basically automated teller machines (ATMs) for him, had recently transferred money abroad. Imran has defended the unlawful action while his party leaders have confessed to their crime and must be held accountable, he said. At the news conference, Rashid was flanked by cabinet colleague Khwaja Saad Rafique and MNA Talal Chaudhry.

One of the two aides of Imran was spending lavishly to meet all the expenses of Imran Khan's kitchen to his travels, Rashid alleged. The PML-N leadership has nothing to worry about as it had faced forensic audits during the regimes of Benazir Bhutto and Pervez Musharraf, he added. "It is time to conduct a DNA test of those who are levelling baseless allegations."

Rashid said Prime Minister Nawaz Sharif and his family had been victimised on many occasions in the past, but no wrongdoing could ever be established against them.

The prime minister's children had not left the country on their own accord but they were forced by dictator Musharraf to stay abroad. "They were even denied Pakistani passports when the hard-working family was in exile," he added.Rashid said Imran knew of only one commission that was kickback and how to earn it.

Published in The Express Tribune, May 2nd, 2016.