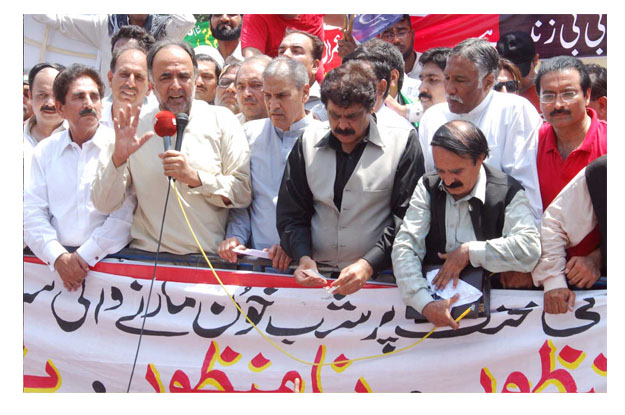 ---
LAHORE: "Terms of reference (ToRs) for the Panama Papers investigation should be finalised in consultation with opposition parties. The prime minister's son has confessed to his crime, and an independent investigation should now be launched," former federal minister Qamar Zaman Kaira said on Sunday.

He was addressing a rally organised by the Pakistan Peoples Party (PPP) to mark the International Labour Day. A large number of PPP and labour union workers from WAPDA, Pakistan Railway, PIA, House Building Finance Company and the Civil Aviation Authority attended the rally from Haji Camp to Lahore Press Club.

"We have confidence in the chief justice but the modus operandi to handle the Panama Papers scandal is not fair," Kaira said. He said the PPP would oppose what he called Prime Minister Nawaz Sharif's attempts to distribute national assets among his friends in the name of privatisation. He said the party would take to the streets if its demands were not met.

Addressing the prime minister, Kaira said, "General Zia and General Musharraf couldn't stop the PPP… how can you do so?"

PPP leader Chaudhry Manzoor said the PPP government had raised the minimum wage of labourers by 80 per cent and given 12.5 per cent ownership to workers in national institutions. He demanded that the government increase the salaries of government employees by 50 per cent and pension by 100 per cent.

Former Lahore information secretary Faisal Mir announced the launch of Minimum Wage Movement in Kot Lakhpat Industrial Area. He said the PPP would request in writing to all factory owners in the industrial estate to start paying the minimum wage of Rs13,000 to all unskilled workers.


Participants of the rally were holding banners carrying the pictures of Zulfikar Ali Bhutto, Benazir Bhutto, Asif Ali Zardari, Bilawal Bhutto Zardari as well as of Karl Marx and Russian, Chinese and Latin American revolutionaries Vladimir Lenin, Mao Zedong and Che Guevara.


Published in The Express Tribune, May 2nd, 2016.