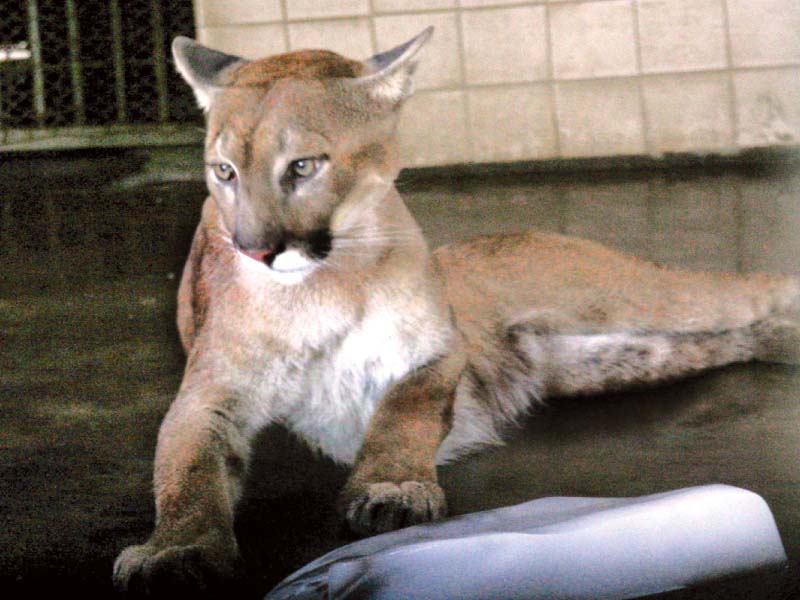 ---
KARACHI: The birth of three cubs at the Karachi Zoological Garden on Friday cheered the staff mourning the demise of the 16-year-old Bengal tiger the same day.

According to Karachi zoo deputy director Abida Raees, the female cougar, named Vinee, was in labour for around ten hours. The staff decided to let Vinee give birth naturally despite the long labour period, informed the chief security guard of the zoo, Suleman Sajjad.

"The mother and young ones are fine now," said Raees, adding that the entire staff got excited after the arrival of the three cubs.

Five cheetah cubs fight for survival after rare C-section birth

The cubs cuddled their mother with their eyes closed while Vinee was licking their heads, the moment was captured in a video recorded by Sajjad on his mobile phone just after Vinee gave birth.

Vinee has been separated from her male counterpart, Cuba, said Raees adding that they wanted the female puma to devote all her attention to the cubs. "If we would have left Cuba in the cage too it would have affected the cubs," she explained.

Vinee and Cuba were brought to Karachi zoo from Canada in 2011, said Raees. The two already have two cubs, Zuri and Perci, who were born in 2013 and 2014 respectively.

Perci and Zuri have also been caged in a separate enclosure as they are approaching the age of mating. However, Zuri is still quiet young to give birth, said Raees. "After three years, mountain lions mature enough to breed," she explained.

The zoo needs more enclosures to accommodate the puma family, she said, adding that in this regard a summary has been sent to the government.

Protection from people

The genders of the cubs are yet to be confirmed as no caretaker has dared to step inside the cage, explained Raees. Their cage is covered with a piece of jute from all sides to protect Vinee and the cubs from heat and visitors. Ice blocks have also been placed inside the cage

Meanwhile, Cuba, roams alone and leans against ice blocks present inside.

So far, only the caretakers are allowed to see Vinee and her cubs, informed Raees. "The cat [puma] can smell humans," said Sajjad, adding that there is a possibility that Vinee may harm her own cubs out of fear. The staff has set a particular time when caretakers are allowed to see them, he added.

After 15 days, the cubs will open their eyes and the jute surrounding the cage would then be removed, said Sajjad.



Published in The Express Tribune, May 1st, 2016.