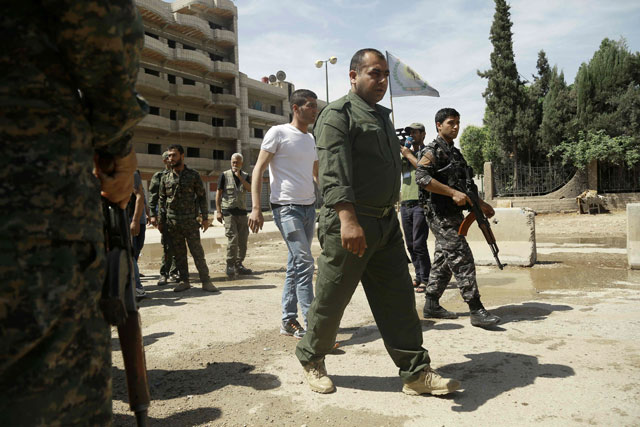 ---
QAMISHLI, SYRIA: A suicide bomber killed five Kurdish policemen at a checkpoint in Syria's divided northeastern city of Qamishli on Saturday, police said.

Four others were wounded in the attack on the city's demarcation line, according to Jowan Ibrahim, the commander of the Kurdish police known as the Asayish.

It was not immediately clear who carried out the attack, but the Islamic State (IS) group has claimed previous bombings in the mainly Kurdish city.

Eighteen Kurdish militants killed trying to flee into Syria: Turkish security sources

Control of Qamishli is split between Kurdish militia and pro-regime fighters, who agreed a truce last week after several days of rare clashes.

The army and the Kurds have coordinated on security against Islamic State group militants in surrounding Hasakeh province, but tensions have built up between the sometimes-rival authorities.

The army and its militia ally, the National Defence Forces, control Qamishli airport and parts of the city, as well as areas of the provincial capital Hasakeh to the south.

Syria rebels lose new ground to Kurds, regime: monitor

Nearly all of the rest of the province is controlled by the Kurdish People's Protection Units (YPG), who have declared an autonomous region across the mainly Kurdish northern areas they control.

The YPG is regarded by the Pentagon as the most effective fighting force against IS on the ground in Syria.
COMMENTS
Comments are moderated and generally will be posted if they are on-topic and not abusive.
For more information, please see our Comments FAQ