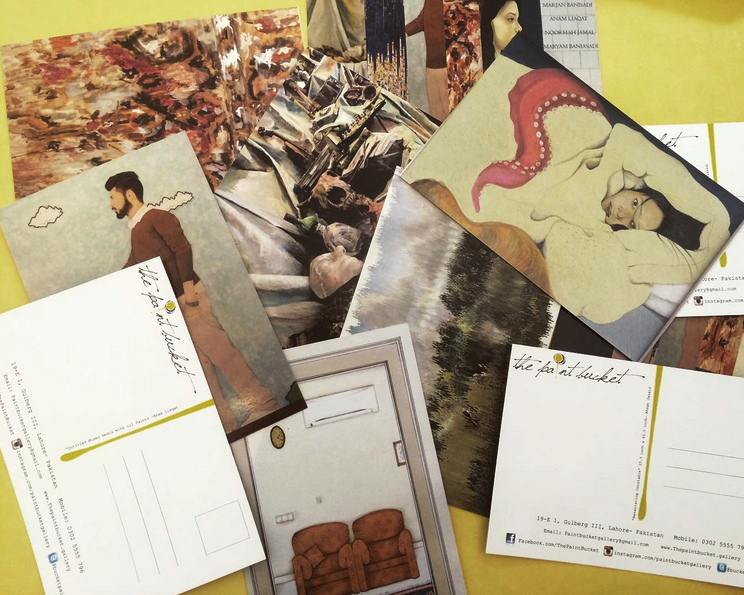 ---
LAHORE:



A day-long group show of six graduates of National College of Arts will open at Paint Bucket Art Gallery on Friday (today).




The show titled Becoming features 18 pieces, including gouache on wasli, installations in mix media, miniatures and collages.

Curator Anam Lashari told The Tribune that the show featured works of the six strongest graduates from the college this year.

She said that the artists had been asked to put up an eclectic collection which reflected their personalities and highlighted their skill.  Talking to The Tribune, Noomrah Jamal, one of the artists, said her work depicted complexity of personal baggage.

"What defines individuality? I like to depict my subjects not under general themes but as people whose lived experience defines their individuality. In a world where people are boxed in categories of geography, religion, race and sex, I try to avoid letting statistics define people."

Jamal says she has tried to build a narrative using symbols instead of strong facial expressions of her subjects.

"When I start painting, I ask the model to keep a neutral expression because I want to study their physical form without any emotion."

"I would like viewers to develop their own interpretation instead of letting me impose my views on them," Jamal said. Maryam Baniasadi's work depicts nostalgia. Her collection, titled Listen to This Carpet depicts weavers of Persian carpets and her personal recollections. "I am constantly translating my past and transferring it into stories on the canvas," she said.

"My miniatures depict my journey. I have tried to portray my memories of Iran, my homeland," she said. She said displacement had provoked her to record her life in miniature.

Anum Liaqat, a visual artist, said she had tried to portray various images in several mediums to enhance the visual experience. "It is my take on art history," she said.

Jhanazaib Akmal said that he had borrowed two techniques, one from the world of 8-bit and the other historic miniatures and western paintings, for his collection.

Akmal said he had been fascinated with video games of the 1980s.

"Their aesthetics always appealed to me," he said. Ahsan Javed said that his collection dealt with manipulation of information.

"Media, be it digital or printed, manipulates information and delivers it to us in a cropped form. This collection is my take on the media industry. I have cropped images from newspapers and magazines to provide a new take on the events," he said.

Published in The Express Tribune, April 29th, 2016.