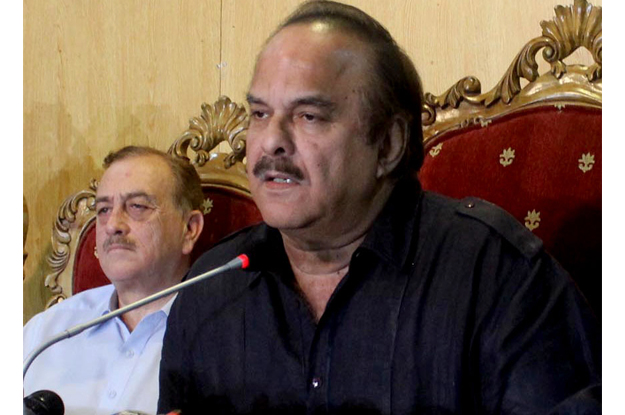 ---
ISLAMABAD:



War of words between the Pakistan Muslim League-Nawaz (PML-N) and rival Pakistan Tehreek-e-Insaf (PTI) over graft allegations took a new turn on Wednesday when the PTI served the ruling party a legal notice for running against it a malicious media campaign financed by public money.




The PTI Information Secretary Naeemul Haq issued a legal notice to Information Minister Pervaiz Rashid accusing him of making every effort to compromise the PTI's 'peaceful rally' on its foundation day on April 24 and to damage the reputation of party chief Imran Khan.

"Your ministry [Information Ministry] was publishing advertisements on your directions which were not only false and malicious but were being financed by public money. These actions of yours are tantamount to misuse of authority and misappropriation of public money," said the notice.

The notice also asked the minister to disclose source and detail of funds, which were utilised 'unlawfully' for financing the advertisements. The decision to serve a legal notice was taken during a meeting of PTI leaders, chaired by Imran Khan at his Bani Gala residence.




The minister had claimed Imran Khan was not accepting the government's terms of reference (ToRs) for the commission proposed to be formed to probe Panama Papers leaks only to save the PTI leader Jahangir Tareen from the graft inquiry.

Referring to a State Bank document, the minister accused the PTI leader of getting Rs49.8 million of loans against his several companies waived off from various banks.

However, Tareen had denied getting loans written off for his companies and said no one had challenged him on this basis during 2002, 2008, 2013 and 2015 general elections. "The letter the information minister is referring to was taken back by the State Bank of Pakistan with an apology in 2013," Tareen said.

Addressing a press conference, Naeemul Haq said the PTI has also decided to file an application for disqualification of Captain (retd) Muhammad Safdar, the son in law of the prime minister.  The decision is taken in view  premier's son Hussain Nawaz Sharif that Maryam Nawaz is a beneficiary owner of family's offshore firms.

"Though the PM's daughter has misled the nation, we have decided to file disqualification case against her husband for misleading the ECP with regard to assets and liabilities of his wife," Haq said.

PPP Invites Sheikh Rashid

Meanwhile, Pakistan Peoples Party (PPP) delegation including the Senate's Leader of Opposition Aitzaz Ahsan and National Assembly Leader of Opposition Khursheed Shah visited Rashid's residence in Rawalpindi to give him invitation for opposition party's May 2 conference on Panama leaks.

Later addressing the media, Ahsan said Sheikh Rashid had accepted their invitation to attend the May 2 meeting.

SCBA suggests 3-phases

The PPP leaders – Aitzaz and Shah – also met the Supreme Court Bar Association (SCBA) President Ali Zafar, who suggested that the opposition parties demand investigation in connection with the Panama leaks in three phases.

"In the first phase, matter related to Sharif family be probed. Later, the issues of public office holders be investigated and, lastly, the commission should examine other individuals' cases," SCBA president Ali Zafar told the media after the meeting.

While announcing not to take part in the oppositions' May 2 meeting, Zafar said SCBA and the PPP have agreed that the proposed commission should be empowered to visit abroad for collecting evidences related to offshore companies.

Published in The Express Tribune, April 28th,  2016.
COMMENTS (1)
Comments are moderated and generally will be posted if they are on-topic and not abusive.
For more information, please see our Comments FAQ