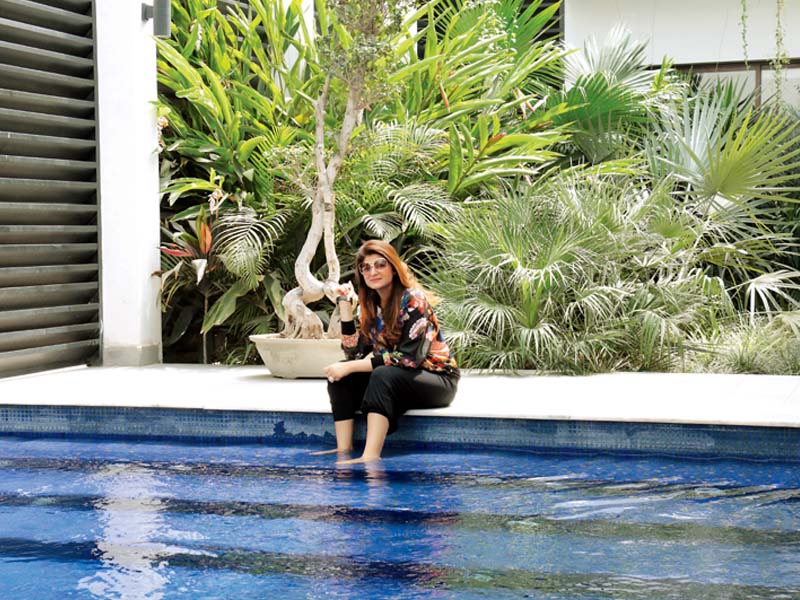 ---
Interior decorator at Jade, Mahvish Ellahi lets us hang by her wonderfully decorated poolside area — complete with a glass of watermelon juice to set the mood!

On a bright afternoon, we make our way over to Mahvish Ellahi's beautiful house in Lahore to explore her favourite corner and talk everything interiors. Ellahi's house is not only impeccably decorated but is also well-balanced; the space is minimalist, yet stylish. After some light chitchat over watermelon juice, we proceed to the poolside area.






From artwork to accent pieces, this space is comfortable yet formal enough to host large gatherings. Ellahi professes her love for white walls and accessories. "Your house needs to be unique and should never be the stamp of any designer," says Ellahi. "I feel the furniture needs to be simple and comfortable, and it is the accessories that make any space come alive."




We instantly spot centre tables from Marina Home, wall installations made by Ellahi's own company, Jade, Jim Thompson cushions, and a beautiful art piece by Indian artist Raju. Functionality is very important to Ellahi, and she feels that every part of the house needs to be utilised. "It's the multifunctional nature of this space that makes it my favourite. It has the best view of the house, I can look out into the garden and when it rains – it is just beautiful. I love beaches and the outdoors, and this space makes me feel like I am on holiday."




As she finds the water very soothing, she also confesses that the entire family eats Sunday brunch together here. "It's nice to be able to sit outside, swim and eat with the family."

There is a certain charm about the minimalism of the space and the eclectic pieces we see around. The use of brass details adds a metallic touch to the space that is refreshing without being overpowering. "There needs to be a balance with how you utilise materials in your space. Accents are always more impactful than cluttering the space with the same material."




Needless to say, from the furniture to the landscaping outside, this space is definitely one to take note of if you are planning on decorating your poolside area.
COMMENTS (1)
Comments are moderated and generally will be posted if they are on-topic and not abusive.
For more information, please see our Comments FAQ