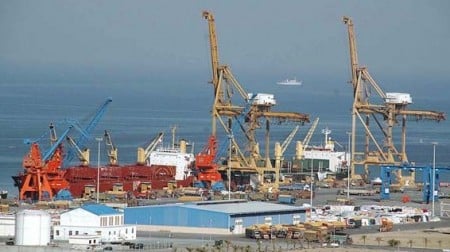 ---
ISLAMABAD: Senators raised the issue of access routes to the Gwadar seaport in Tuesday's session of the upper house of parliament. Hasil Bizinjo of the Balochistan National Party on a point of order said that the Gwadar port had not yet become functional.

He said the only road link to Gwadar is from Karachi, so importers prefer to use the Karachi port instead of Gwadar from where imported goods must come again to Karachi for upcountry transportation. He said the Gwadar-Naudero Road remains incomplete and the port would only become functional when it was directly linked through road and rail to other parts of the country.

Bizenjo said he was walking out in protest over the nonlinkage of Gwadar with the rest of the country. Senators from Balochistan and those belonging to the PML-Q and the Jamat-i-Islami joined him in the walkout. The Senate also passed the Alternate Energy Board Bill 2010. The Bill has already been approved by the National Assembly.

Professor Khursheed Ahmed of the Jamaat-i-Islami opposed the bill. He said he was not against the content of the bill but would want to know what the board had achieved since its formation in 2003. Haroon Akhter of the PML-Q said the oil mafia had made the Alternate Energy Board dysfunctional. "If alternate energy resources were utilised it could save 20 per cent usage of oil," he argued.

Professor Ibrahim said the government had just brought an ordinance issued by General Pervez Musharraf as a bill. Raza Rabbani of the PPP said the bill was against the spirit of the 18th amendment because it provides for the presence of seven federal secretaries on the board as against only one chief secretary from each province. He said the bill was against the provincial autonomy provided under the 18th amendment. Haji Adeel of the ANP said the Alternate Energy Board was just another white elephant.

Water and Power Minister Raja Pervez Ashraf informed the Senate that the government was not opposed to the idea of purchasing electricity from Iran. He said he had held negotiations with an Iranian delegation on Monday. He said a 700 kilometre transmission line would have to be built to transmit 1,000 megawatt of electricity the government intends to buy from Iran. He said installing the 700 kilometre long transmission line would take a minimum of five years. The Senate will meet again on Wednesday.
COMMENTS
Comments are moderated and generally will be posted if they are on-topic and not abusive.
For more information, please see our Comments FAQ