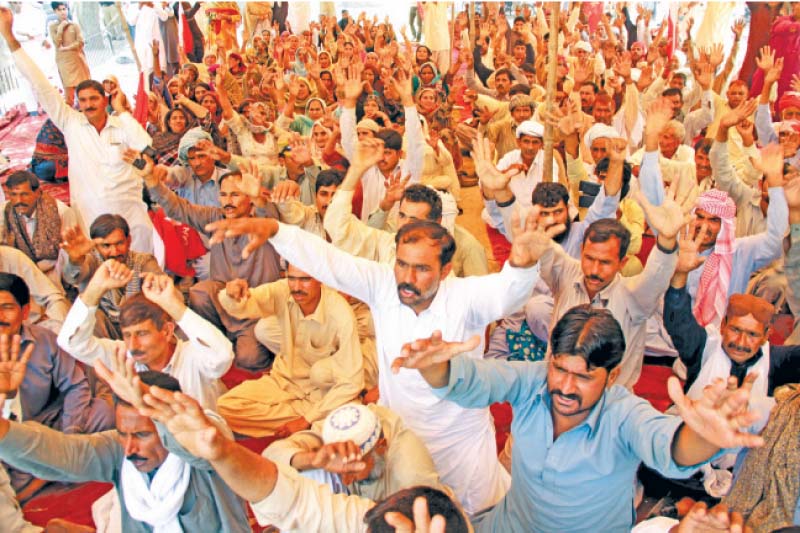 ---
LAHORE:



The Anjuman-i-Mazareen Punjab (AMP) held a sit-in outside the Lahore Press Club on Tuesday to protest against a police crackdown against tenants of the Okara military farms. The sit-in began at 11pm and continued till 4pm.




The protesters said several leaders of the peasants had been arrested by police on charges of inciting violence although they were preparing to celebrate the International Peasants Day.

"Our village has been cordoned off on all sides. Our children have been unable to go to school," said Jamila Bibi, one of the protesters.

She said Mehr Abdul Sattar, an AMP leader, was arrested on April 16, 2016, a day before the peasants day.

The protesters were joined by leaders of the Awami Workers' Party (AWP), the All Pakistan Wapda Hydroelectric Union, the All Pakistan Bhatta Mazdoor Union and the National Trade Unions' Federation.

Khursheed Ahmed, the All Pakistan Hydro Electric Union general secretary, demanded that the government release those arrested. "We stand in solidarity with the tenants," he said.

Farooq Tariq, the AWP general secretary, highlighted the struggle of the tenants since 2001 when they started demanding right to land. He said dozens of tenants were missing and AMP leaders had been arrested under terrorism charges.

He said police had raided Sattar's house on April 16 and arrested him.

Talking to The Express Tribune, Tariq said that a delegation of workers from the AMP and the AWP had visited the Chief Minister's Secretariat to negotiate terms for ending the protests. He said they would present their demands in writing tomorrow [Wednesday].

"We have been assured by the CM's adviser that our demands will be given serious consideration," he said.

Mehmood Butt of the Bhatta Mazdoor Union and Ahsan Wyne of the Awami National Party also spoke at the sit-in.

Published in The Express Tribune, April 27th,  2016.