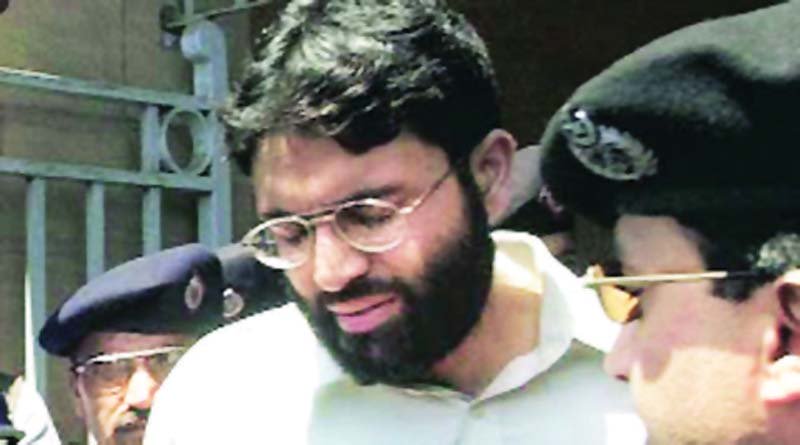 ---
KARACHI: A Sindh High Court (SHC) judge declined on Tuesday to hear the appeal of murder convict Omer Saeed Sheikh, who was sentenced to death for killing American journalist Daniel Pearl in 2002.

A two-judge anti-terrorism appellate bench referred the matter to the SHC chief justice to constitute a new bench, after one of the two judges, Justice Naimatullah Phulpoto, excused himself from hearing the matter.

Sheikh, the main convict, has challenged the death sentence awarded to him by the anti-terrorism court (ATC).

Daniel pearl case: SHC takes up case for release of accused

Pearl, the South Asia bureau chief of the Wall Street Journal, was kidnapped on January 23, 2002, from Karachi and later beheaded by his captors.

The main accused, Sheikh, was sentenced to death on the charges of kidnapping and killing the US journalist, while his three accomplices - Fahad Naseem, Syed Salman Saqib and Sheikh Muhammad Adil - were sentenced life imprisonment with a fine of Rs500,000 each by the ATC, Hyderabad on July 15, 2002. The court also directed the convicts to pay Rs2 million to the victim's widow, Marianne Pearl.

Shaikh's accomplices have also moved the court against their convictions.

The state has also filed an appeal seeking enhancement of life terms into capital punishment of the three co-accused. On Tuesday, the appeals were fixed before a division bench, comprising Justices Phulpoto and Ghulam Qadir Laghari.

When the matter was taken up, Justice Phulpoto declined to hear the appeals. Therefore, the matter was referred to the chief justice for constitution of a new bench for hearing the appeals.

Prolonged 'solitary confinement'

Sheikh is being kept in solitary confinement in a cell made for death convicts at the Hyderabad Central Jail since his conviction, as his appeal is awaiting a decision since 2002.

Daniel pearl case: Acquitted suspect remains missing

In August 2014, the SHC had ordered the prison authorities to provide proper facilities to Sheikh, who was confined in the 'solitary death cell' being a 'condemned' prisoner.

Sadia Rauf, the convict's wife, had taken the provincial home and prison authorities to court for allegedly denying basic facilities to her husband in violation of the law.

She had blamed jail officials of inhuman treatment of Sheikh in the shape of unabated solitary confinement and deprivation of all basic facilities which he is entitled to receive under the Pakistan Prison Rules or jail manual.

The continued solitary confinement was having an adverse effect on his health but the jailer was determined to inflict torture on him by keeping him in solitary confinement and depriving him of other facilities, she had alleged.

Published in The Express Tribune, April 27th,  2016.