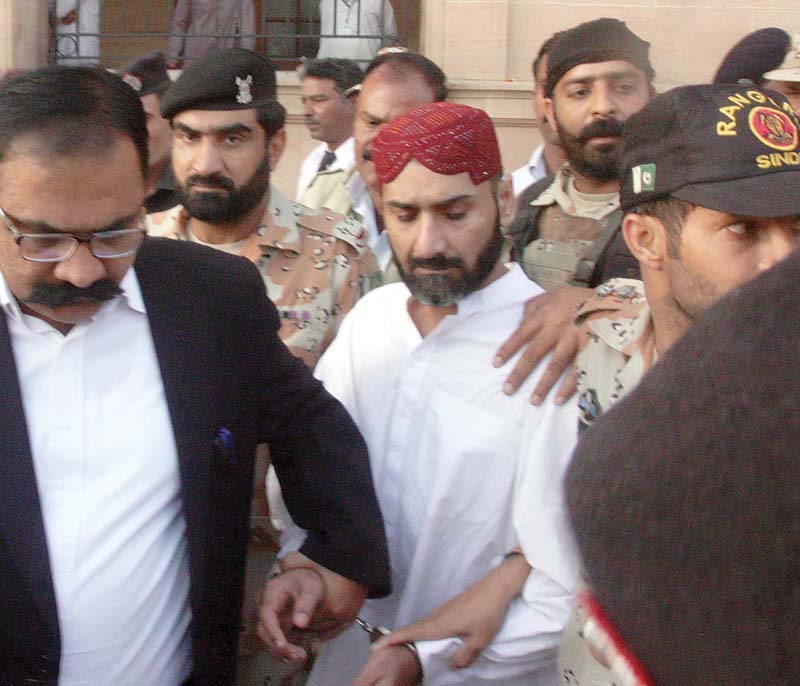 ---
KARACHI: As many as 61 suspects, mostly belonging to the Muttahida Qaumi Movement (MQM), arrested for their alleged involvement in targeted killings, extortion, china-cutting and terror financing, are currently in detention as part of their 90-day preventive custody at sub-jails operated by the Rangers.

More than 500 suspects have so far been detained since the Rangers were given powers to keep the suspects for a 90-day preventive custody at Central Jail, Karachi and Mitharam hostel which has been declared by the government as a sub-jail. However, these 61 suspects were arrested by the paramilitary force during various raids in parts of metropolis in recent months.

Court orders: SHC allows Uzair Baloch to meet wife and lawyer




MQM's Rabita Committee deputy convener Shahid Pasha, key MQM worker Minhaj Qazi, alleged mastermind of china-cutting Saeed aka Saeed Barham, in-charge of MQM's militant wing Kashif alias David and Lyari's kingpin Uzair Baloch are among the detainees.

The preventive custodies of some 14 suspects from the total 61 will be completed next month.

A Rangers official said these suspects will be handed over to the relevant police stations for further processing after they complete their detention periods.

According to a list shared with The Express Tribune, 14 suspects are imprisoned at the Central Prison, Karachi while the remaining 46 are at Mitharam hostel.

The list stated that the suspects are allegedly involved in targeted killings, extortion, murders, terrorism as well as facilitating terrorists.

"The detainees' families could meet them as per the jail manual," explained the Rangers spokesperson.

Information about relevant jails and other details of suspects are included in the list, however, affiliations with a political party or any other group are not mentioned.

Who's who

Pasha was arrested after the Rangers conducted a pre-dawn raid at his residence in Gulistan-e-Jauhar on March 21, 2016. During the raid Rangers personnel had not stated why he was arrested and where he was being taken, however, later in the day, he was presented at the anti-terrorism court (ATC) where his 90-day remand was asked for.

Pasha is under custody at Mitharam Hostel and his detention period will be over on June 20.

Qazi, a senior party activist considered a think-tank within the MQM, was arrested in a raid conducted by the paramilitary force in Garden on January 29.

Qazi is also imprisoned at Mitharam and his detention period will be completed on May 2.

Uzair Baloch was said to be nabbed from the city's outskirts on January 30 while attempting to enter the city.

Later, the gang war leader was presented before the ATC in a similar fashion. A joint interrogation team was also formed to probe him, and it was said the high-profile criminal revealed names of several key-figures of the Pakistan Peoples Party during the probe.

Baloch is currently detained at the Mitharam facility as well and will complete his 90-day preventive detention on Thursday (tomorrow).

Published in The Express Tribune, April 27th,  2016.
COMMENTS
Comments are moderated and generally will be posted if they are on-topic and not abusive.
For more information, please see our Comments FAQ