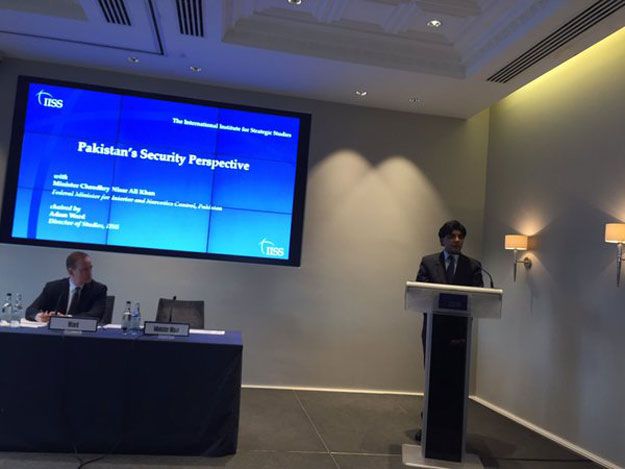 ---
The country's top security czar urged the Western countries on Tuesday to take Muslims on board and adopt a regional approach towards eradicating the menace of terrorism.

"Islam has nothing to do with terrorism and that linking it with the religion is unfortunate," Federal Interior Minister Chaudhry Nisar Ali Khan said while speaking at the International Institute of Strategic Studies in London, Radio Pakistan reported.

"There is a dire need to continue the efforts meant to eliminate this affliction."

He stressed that the West should refrain from enforcing the solution to curb terrorism in the South Asian region as it had its own dynamics needing a regional solution rather than an imposed one.

Terrorism will be eliminated from Pakistan in 'a year or two', vows PM

Speaking about Pakistan's efforts to root out terrorism, Nisar said terrorist incidents have declined by 38% compared to the last year, whereas suicide bombings particularly were reduced by 31%.

All in all, 14,000 intelligence-based operations were carried out by around 30 intelligence agencies during the last 18 months.

The interior minister further said the civil and military leadership were on the same page against the terrorism.
COMMENTS (2)
Comments are moderated and generally will be posted if they are on-topic and not abusive.
For more information, please see our Comments FAQ