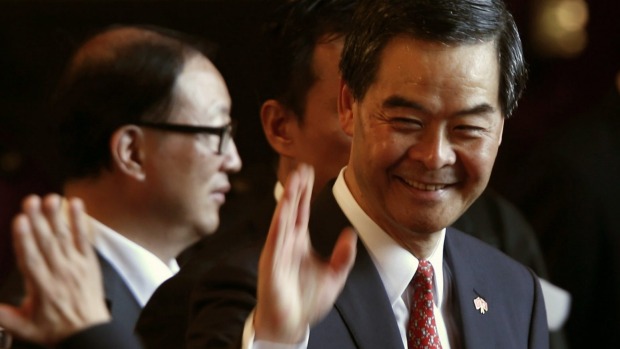 ---
HONG KONG: Hong Kong's Beijing-friendly leader warned Tuesday the city will lose investment and job opportunities if residents continue to seek independence, painting a bleak economic picture of the former British colony without Chinese support.

Unpopular leader Leung Chun-ying's remarks come as political divisions in the semi-autonomous city widen, with young campaigners pushing for self-determination or outright independence from China.

Kashmir belongs to Pakistan and China, according to Twitter

Hong Kong is self-governing and retains many freedoms not seen on the mainland, but Beijing sees the concept of eventual independence as unthinkable.

"The city's seven million residents would bear the political and economic consequences with those pushing for independence or self-determination," Leung told reporters at the government's headquarters.

"Investors would lose confidence in Hong Kong. People would lose opportunities to develop and to obtain employment," he said.

"Hong Kong would lose the trust and the support of Chinese authorities," Leung, elected in 2012 by a 1,200-strong committee packed with members of pro-Beijing elites, said.

Avoiding nuclear war: 'India, Pak must resolve Kashmir issue'

Last month saw the launch of multiple political parties pushing for independence or self-determination.

Student leaders behind the city's 2014 mass pro-democracy rallies have launched Demosisto, a party campaigning for a referendum to decide the city's future.

And the newly-formed pro-independence Hong Kong National Party, made up of 30 to 50 students and young professionals, said independence was the only path of survival for the city.

Chinese media called on the government to take action against the movement.

"The Hong Kong government cannot continue to be tolerant," an editorial in the overseas edition of the People's Daily said on Saturday, warning the movement had brought the city to a "dangerous" place.

The city's government said it was looking into the issue.

'Will march towards Raiwind if Panama Papers revelations not probed independently'

"Advocating independence of Hong Kong is totally contrary ... to the legal status of Hong Kong," secretary for justice Rimsky Yuen said on Saturday.

Hong Kong's freedoms are protected by a 50-year agreement signed when Britain handed the city back to China in 1997.

The British Foreign Secretary Philip Hammond dismissed calls for independence or a referendum during a trip to the city early this month.

"We don't believe that any aspiration to independence is a realistic plan," he said.