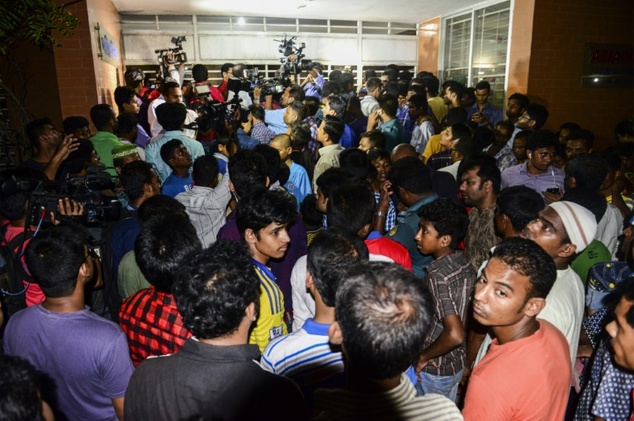 ---
DHAKA: Two leading gay rights activists were hacked to death Monday at an apartment in Bangladesh's capital, police said, the latest deadly attack on minorities in the Muslim-majority nation.

Dhaka Metropolitan Police spokesman Maruf Hossain Sorder said at least six men entered the seven-storey building, saying they were there to deliver a parcel to the home of one of the victims.

"Unidentified attackers entered an apartment at Kalabagan and hacked two people to death by machetes. Another person was injured," he told AFP.

Rights: 'Education should be given priority'

Private station Jamuna TV, quoting witnesses, reported the attackers shouted "Allahu Akbar" (God is the greatest) and fired blanks to create panic as they left.

Police did not identify the victims, but an official from Roopbaan, the country's only LBGT magazine, named one as editor and gay rights activist Xulhaz Mannan.

He also named the other victim as Mahbub Tonoy, who is also gay and on the magazine's executive committee.

Roopbaan has become a platform for promoting the rights of LGBT Bangladeshis, seeking to spread tolerance in a nation where same-sex relationships are a punishable offence.

The US said Mannan had also been working with American development agency USAID in Bangladesh.

"I am devastated by the brutal murder of Xulhaz Mannan and another young Bangladeshi," said US ambassador Marcia Bernicat.

"We abhor this senseless act of violence and urge the government of Bangladesh in the strongest terms to apprehend the criminals behind these murders."

USAID chief Gayle Smith called for the attackers to be brought to justice, describing Mannan as "the kind of person willing to fight for what he believed in".

Mannan and some of his friends launched Roopbaan two years ago and were behind an annual Rainbow Rally which since 2014 has been held on April 14, Bengali New Year.

Police banned the rally this year as part of widespread security measures, and briefly arrested four LGBT activists after they tried to hold the event anyway.

Ahead of the planned date, Mannan told AFP Islamists had posted threatening messages online.

Women's day: Govt pledges to protect women's rights

"They have even set up an online group to threaten us," he said.

The killings come two days after a liberal university professor was hacked to death in the northwestern city of Rajshahi, the latest of several murders of secular bloggers and liberal activists.

The Islamic State group claimed responsibility for the attack, saying the 58-year-old professor who wrote poetry and fiction had been slain for "calling for atheism".

But Bangladesh Home Minister Asaduzzaman Khan rejected the assertion and said "local militants" carried out the murder.

Prime Minister Sheikh Hasina blamed the main opposition Bangladesh Nationalist Party (BNP) and its Islamist ally, Jamaat-e-Islami for the killings.

"The BNP-Jamaat nexus has been engaged in such secret and heinous murders in various forms to destabilise the country," state-run BSS news agency reported. "Such killings are being staged in a planned way."

Hasina's government has been heavily criticised by rights groups for failing to protect the secular activists and Bangladesh's minorities.

Many secular bloggers have fled the country in recent months after receiving threats.

"There have been four deplorable killings so far this month alone," said Amnesty International South Asia director Champa Patel, in reaction to the latest killings.

"It is shocking that no one has been held to account for these horrific attacks and that almost no protection has been given to threatened members of civil society."

Victims of neglect: Campaign to protect child rights launched in FATA

On Monday, Bangladesh's best-known blogger became the latest secular activist to be threatened, a warning he suspected was linked to his recent scathing criticism of the government.

Blogger Imran Sarker, who led major protests by secular activists in 2013 against Islamist leaders, said he had received a phone call on Sunday warning he would be killed "very soon".

IS has claimed killing non-Muslims and members of Bangladesh's minorities, while the local branch of Al-Qaeda said it murdered several secular bloggers and activists.

Bangladesh police, however, said they suspect banned local Islamist outfits, the Jamayetul Mujahideen Bangladesh and the Ansarullah Bangla Team, of being behind the killings.