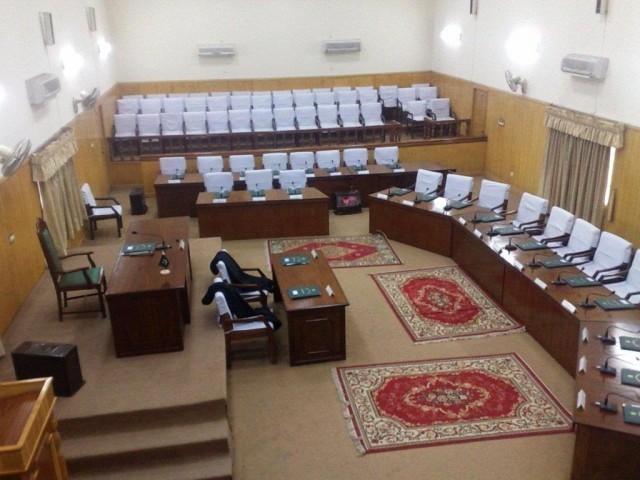 ---
GILGIT: Gilgit-Baltistan Chief Election Commissioner Syed Tahir Ali Shah has notified the names of six members who were elected to the G-B Council, the upper house of the region's parliament.

As per a copy of the notification available with The Express Tribune, Arman Shah,  Sultan Ali Khan, Muhammad Ashraf Sada and Wazir Ikhlaq Hussain were members elected from the ruling Pakistan Muslim League-Nawaz. In addition, Islami Tehreek Pakistan's Syed Muhammad Abbas and Syed Afzal, an independent candidate, were named members of the council.

Four of the six candidates from ruling Pakistan Muslim League Nawaz (PML-N) were elected to the upper house last week through a show of hands in Gilgit.

Polling was conducted in the G-B Assembly hall under the supervision of the regional election commission. All 33 members of the legislative assembly took part in the polling process.

The elections took place after five years. They were conducted under an amendment incorporated by the government in the G-B Empowerment and Self Governance Order, 2009. This allowed lawmakers to show their hands for candidates they wanted to vote for instead of a secret ballot.

The council— established in May 2009 under Article 33 of the 2009 order—is represented by six members each from the federal and G-B governments.

The G-B Council, headed by Prime Minister Nawaz Sharif, enjoys the status of the upper house of the regional parliament. It has the power to legislate on over 50 matters, including minerals, tourism, forests and energy.

The council is currently represented by Captain (retd) Muhammad Safdar, Khalid Hussain Magsi, Dr Darshan, Syed Iftikharul Hassan, Isphanyar M Bhandara and Tariq Fazal Chaudhary—all from the federal government.

Published in The Express Tribune, April 26th,  2016.