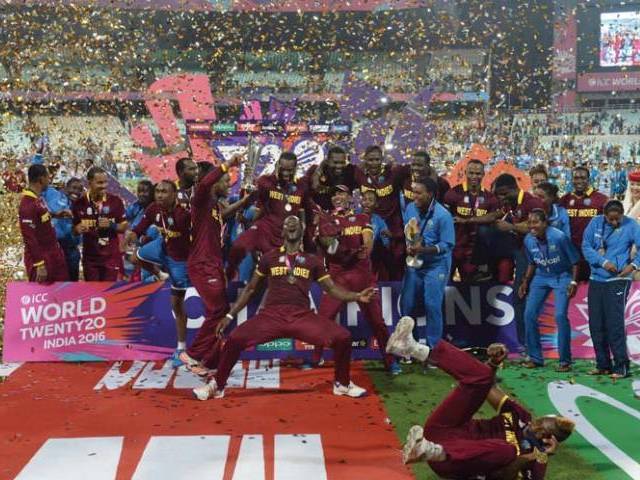 ---
LONDON: The International Cricket Council has criticised the actions and comments of several West Indies players following their World T20 final win over England in Kolkata earlier this month.

There had been reports prior to the tournament that the team were on the verge of withdrawing from the event as part of a long-running pay and contract dispute with the West Indies Cricket Board.

Prior to lifting the trophy, West Indies captain Darren Sammy gave an emotional interview on the Eden Gardens outfield where he thanked Keith Mitchell, the Prime Minister of Grenada and a key member of the CARICOM heads of government umbrella body, but accused the WICB of "disrespecting" the team.

Ground honour for West Indies captain Sammy

"He (Mitchell) sent a very inspiring message for the team this morning and I'm yet to hear from our own cricket board," said Sammy. "That's very disappointing."

The ICC, in a statement issued on Monday after a board meeting at its Dubai headquarters congratulated the WICB on an "unprecedented treble" that saw the West Indies also win the Women's World T20 final and the boys Under-19 World Cup in Bangladesh in February.

But the ICC said it had given "very serious consideration" to bringing Code of Conduct charges against several West Indies players for "inappropriate" and "disrespectful" comments that "brought the event into disrepute".

West Indies board slam Sammy's 'inappropriate' remarks

"The board acknowledged an apology by the WICB but was disappointed to note that such behaviour had detracted from the success of what was otherwise a magnificent tournament and final," the ICC statement read.

ICC chairman Shashank Manohar also appeared to single out Marlon Samuels for criticism.

It appeared that, in a continuation of an already-established feud, Samuels -- who was at the non-striker's end -- taunted Ben Stokes after the England all-rounder was hit for four successive sixes by Carlos Brathwaite that saw the West Indies to a stunning win in the last over of the match.

Windies strike twice to lift two World T20 trophies

"The sport of cricket is proud of its unique spirit and this involves being gracious in victory as well as defeat and respectful at all times to the game, one's opponents, the sponsors and the fans," said Indian administrator Manohar.

Meanwhile the ICC announced leading non-Test nations Afghanistan and Ireland were to receive $500,000 each from the ICC as part of a "short-term" one-day international fund.

The ICC said the cash boost was designed to help the two countries schedule more bilateral series and so support their respective bids to gain direct entry to the 2019 50-over World Cup in England.
COMMENTS
Comments are moderated and generally will be posted if they are on-topic and not abusive.
For more information, please see our Comments FAQ