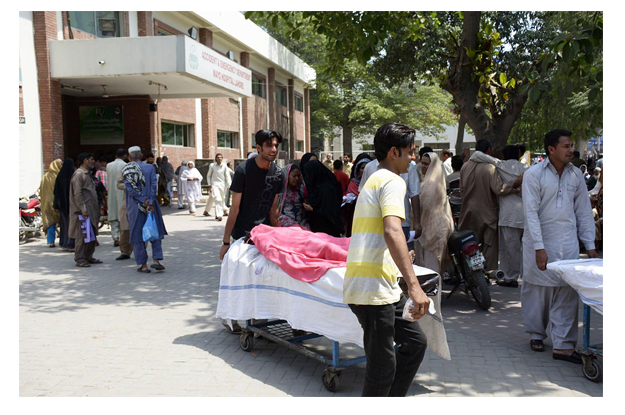 ---
LAHORE:



Doctors boycotted outpatient departments (OPDs) in public hospitals of the Punjab on Monday following a strike call given by the Young Doctors' Association (YDA) Punjab.




Dr Tauseef from Jinnah Hospital said that the strike would continue until all suspects of the Sargodha incident were arrested.

"The government should also announce standard operating procedures (SOPs) for attendants' entry to hospitals. Only one attendant should be allowed for a patient," he said. He said that the strike was a message that no compromise would be made on the security of paramedical staff and doctors. "All hospitals in the Punjab remained closed from 8am to 2pm. The strike will continue on Tuesday," he said.

Dr Mazhar Rafique of Mayo Hospital said that relatives accompanying patients often harassed doctors.

"The government must change its priorities and focus on health. Otherwise, things will even get worse," he said.

Health Department spokesman Akhlaq Ali Khan said that the OPDs had not been completely closed. "Some senior doctors in teaching hospitals were available since morning. There were no gridlocks at OPDs. At Children's Hospital, senior doctors treated 1,300 outdoor patients in emergency wards," he said. He said that the Health Department had accepted all YDA demands regarding the registration of cases. "There will be an impartial inquiry into the incident. They [doctors] should not go on strike tomorrow (Tuesday)," he said.

"SOPs have been issued to prevent such incidents. Those threatening doctors at hospitals must be dealt with an iron hand," he said.

Khan said hospital administrations had been directed to take suitable steps to improve security at hospitals. "Only one attendant will be allowed to enter a hospital with a patient," he said.

Meeting

Adviser to CM on Health Khawaja Salman Rafique and Specialised Healthcare and Medical Education Secretary Najam Ahmed Shah on Monday chaired a meeting of vice chancellors and principals of public sector universities and medical colleges at the Civil Secretariat.

The meeting reviewed incidents of violence at District Headquarters Teaching Hospital Sargodha and the Lahore General Hospital. The meeting also discussed the strike at OPDs of teaching hospitals at YDA's call.

The principals said that the working of hospitals had been affected by the strike. "However, alternate arrangements were made for the smooth functioning of hospitals and senior doctors continued to provide examination and treatment services at outdoor departments of the hospitals," they said.

Shah said that violence would not be tolerated at public hospitals. He said legal action would be taken against the culprits without discrimination.

He directed the principals to ensure foolproof security arrangements at hospitals. He said that police posts at hospitals should be made more effective.

Shah said that one patient-one attendant policy should be followed at the emergency departments of the hospitals. "Separate sitting arrangements should be made in waiting areas," he said.

He said that an FIR was being lodged in the Sargodha hospital case.

Lahore General Hospital Principal Prof Khalid Mahmood said that a case had been registered at Kot Lakhpat police station against those involved in beating up doctors. He said that police had arrested six suspects.

Shah said there was no justification for the strike. "The YDA should call it off," he said.

Published in The Express Tribune, April 26th, 2016.