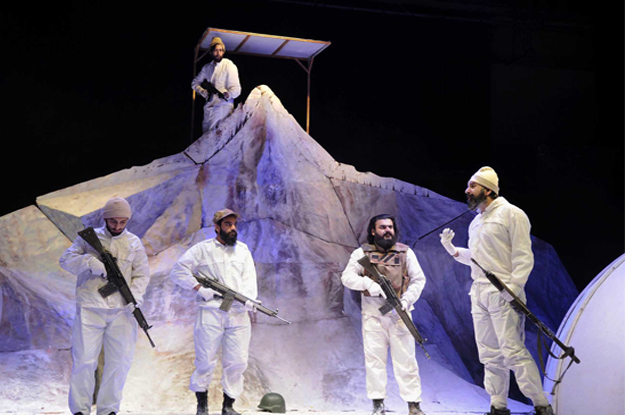 ---
LAHORE: A play on the lives of soldiers of Siachen Glacier opened at Alhamara on The Mall on Sunday.

The play, titled Siachen, has been produced by KopyKats Productions and written by Anwar Maqsood.

"It ran for three months in Karachi, two months in Islamabad and a week in Multan, Faisalabad and Peshawar each," director Dawar Mehmood told the audience before the play opened.

Talking to The Tribune earlier, he said the play had not explored the political dispute around Siachen. "Rather, it looks at the lives of the soldiers who live at high altitudes in harsh weather, far from their families. This aspect is often ignored as most discussions on Siachen focus largely on lieutenants and generals," he said. Mehmood said the play had been a success due to Maqsood's script. "His lines are so powerful that acting skills of narrators cease to matter," he said.

He said the play had retained its original cast, with the exception of Hammad Azim who joined them in Lahore.

"For most actors in the play, this is their first experience on stage," he said.

A military base had been depicted on stage with a snow capped peak in the background. The actors were gathered around an igloo and carried rifles.

The first act showed four soldiers leaving for Siachen after promising their families that they would return soon.

Of these, Karim Khan had lost two brothers during the 1999 battle of Siachen. His mother reminded him that she had lost two sons already and did not wish to lose another.

The play shows how the soldiers keep themselves occupied at the glacier. They crack jokes and fight over cigarettes. There is a brawl between two soldiers when one of them suggests they don't miss their mothers when praying.

The emotional mood is broken by the witty banter of an Indian solider.

In one act, Pakistani soldiers accidentally tune into the Indian radio while trying to contact their own base. They cracked jokes about the Indian cricket team in the exchange. The jokes and the banter drew laughter from the audience.

"It was funny when the soldiers began making fun of political and military leaderships," said Hassan Javed, a member of the audience.

"It was brilliantly executed," said Shehyar Latif, another member of the audience. The play will close on May 15.

Published in The Express Tribune, April 25th,  2016.
COMMENTS
Comments are moderated and generally will be posted if they are on-topic and not abusive.
For more information, please see our Comments FAQ