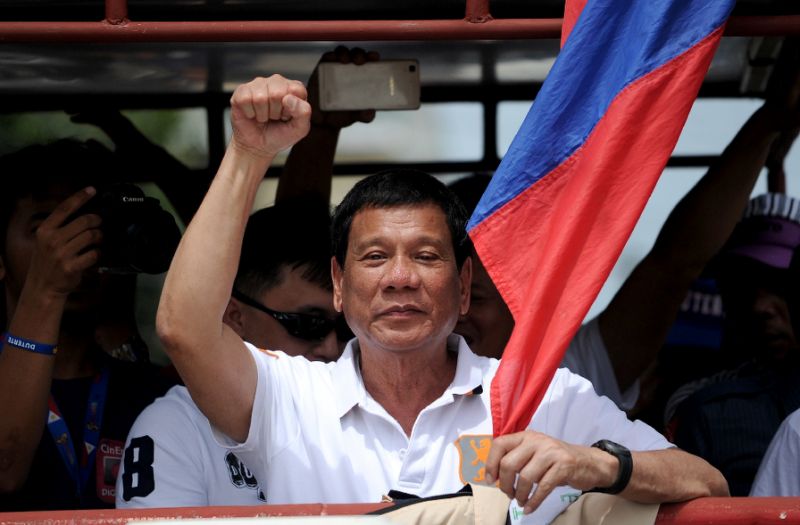 ---
MANILA: Philippine presidential candidate Rodrigo Duterte Saturday renewed his vow to kill criminals as the tough-talking favourite hit the stump in the capital heading into the home stretch of a controversial campaign.

Seen by fans and foes alike as a real-life "Dirty Harry" from a southern city made infamous by shadowy vigilante death squads, the 71-year-old mayor of Davao is the surprise favourite in the race to succeed President Benigno Aquino.

Philippines rejects Islamic State's claim it killed 100 troop

"The drug pushers, kidnappers, robbers, find them all and arrest them. If they resist, kill them all," he told about 2,000 people who cheered and shook their fists during a central Manila rally shortly after midnight.

"Go ahead and charge me with murder, so I could also kill you."

Duterte had earlier pledged to kill 100,000 criminals and dump so many in Manila Bay that the "fish will grow fat" from feeding on them.

More than 50 million people in the mainly Catholic Asian nation are qualified to vote on May 9 with Duterte holding a clear lead over four other candidates, including Aquino's preferred successor.

Analysts say Duterte's profanity-laced campaign resonates in a chaotic, high-crime society with limited opportunities for a vast underclass working for a tiny elite.

This was despite having called Pope Francis a "son of a bitch" and making crass comments about the jailhouse rape of an Australian lay Christian missionary who was killed in a 1989 prison riot in Duterte's own city.

18 soldiers, five militants killed in Philippine clash: military

His April 12 comments, in which he suggested that as mayor he should have been the first in line to rape the victim, drew widespread public condemnation, including from the ambassadors of key allies the United States and Australia.

The unrepentant candidate later told the envoys to "shut up" and steer clear of domestic politics, while also grudgingly issuing an apology over the rape comments.

He has also vowed to hold direct talks with China to resolve overlapping claims in the South China Sea, in a reversal of Aquino's policy of multilateral discussions with other claimants and international arbitration.

Prior to the Manila rally, Duterte met late Friday with Eduardo Manalo, chief minister of the conservative religious group Church of Christ to seek the support of the influential organisation, known by its initials INC.

US-Philippine war games begin as China warns 'outsiders'

The group, which does not disclose its membership size, votes as one in line with what followers describe as biblical doctrines on unity. Politicians routinely make a beeline for its support during elections.

"I laid out my programme to fight crime, illegal drugs and corruption.... Should God will me to win, I will fight for the rights as well as the religious freedom of millions of INC members," Duterte said in a statement.

INC spokesmen confirmed the meeting Saturday.

The Duterte meeting meant all four of the major presidential candidates have met with the INC leader.