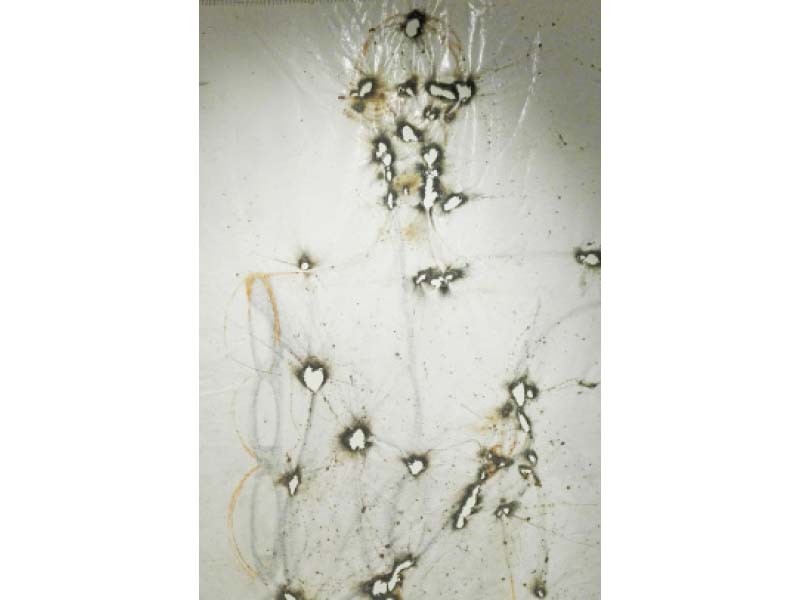 ---
LAHORE: Dimension Seven-an exhibition featuring the work of Burhan Khan commenced on Thursday at Colour Art Gallery.

As many as six flex print and metal pieces and three metal and thread art installations are being displayed at the venue under the exhibition. Khan, a jewellery and fashion designer, said he had been inspired by the supernatural—multidimensional beings around one—invisible to the unmitigated. He said their presence could not be made sense of unless one meditated and raised "their frequency."

"I travel in forests a great deal. I have lived an isolated life for months at a stretch. That's where the idea came from. With no human around me, I sketched what I perceived to be around me," Khan said. He said he had worked a lot with metals earlier and was used to wielding metal to fashion jewellery. He said it had taken him over six months to finish the pieces on display.

Khan, who teaches at the Pakistan Institute of Fashion Design said he had tried to realise the illusion of dwelling in a cave in the midst of nature through his work. "I'm a sketch artist. It all started with etching things one sees by nightfall that are actually not present," he said.

Art teacher Sahar Ahmed said she could relate with the artist's work due to its proximity to spirituality. Ahmed said Khan's work activated one's third eye. Humans are said to be capable of perceiving three dimensions. In reality, they can perceive many more, she said. "Juxtaposing different mediums of sound, vibrations and visuals can activate a lot of other senses in one and I believe that you can then see beyond the conventional three dimensions. To put it in simpler words, there is a thin veil that separates perception and things that exists beyond it," Ahmed said.

Visitor Manisha Khan said the artist's peculiar metal frames had left her mesmerised. She said his metal work came across as jewellery. "The material is grungy nomadic and easy to read. Some of the figures appear to be inspired by Tarot cards as well," the visitor said.

The exhibition will conclude on April 30.

Published in The Express Tribune, April 23rd, 2016.


COMMENTS
Comments are moderated and generally will be posted if they are on-topic and not abusive.
For more information, please see our Comments FAQ