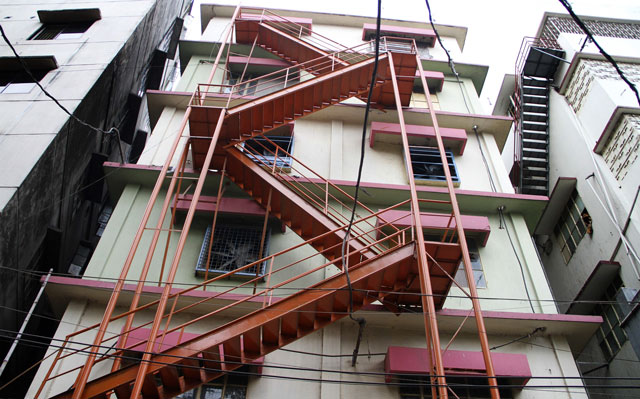 ---
DHAKA: As they jostle for space on the floor, with the door to their fire escape padlocked, the seamstresses cannot help but recall the carnage when another of Bangladesh's garment factories collapsed three years ago.

"We always worry what will happen if a blaze breaks out or the building caves in," one woman worker told AFP on condition of anonymity. "We'll just die like the workers of Rana Plaza."

More than 1,100 people died when the Rana Plaza complex collapsed on April 24, 2013, prompting shocked calls for better working conditions in the world's second-largest garment exporter.

Hundreds of Bangladesh garment factories still not safe: group

But three years on, only a fraction of Bangladesh's 4,500 clothes factories have been certified safe and experts warn another industrial disaster could happen at any time.




While there have been improvements at some of the larger factories, many of the smaller sub-contractors have yet to be inspected and appear to have done little to address safety concerns.

When an AFP journalist visited one backstreet complex in the Rampura suburb of the capital Dhaka, workers could be seen crammed elbow to elbow on the floor while they stitched tags of Western retailers into garments.

The fire escape stairwell was blocked by a padlocked iron gate, while cigarette butts littered the main passageway floor. The handful of fire extinguishers around the building, which is yet to be formally inspected, were are all out of date.

Bangladesh court orders mass arrests over factory disaster

"We know our factory is not safe. It is not a compliant factory," said a 25-year-old worker who refused to give her name for fear of losing her job at Style Fashion Ltd, one of four textile firms housed in the complex.

Production manager Mohammad Khairuzzaman said all four factories were subcontractors for local manufacturers and said safety concerns were being addressed.

The fire extinguishers "will be changed very soon," he told AFP, adding that "in the event of an emergency, we'll open the gate," motioning to the bolted fire escape.

Bangladesh is second only to China when it comes to clothes exports, shipping $27 billion worth every year and employing some four million people in the industry, mainly women.

But it has a woeful safety track record. A fire at the Tazreen factory in Dhaka in 2012 killed 111 workers, many of whom were unable to escape due to a lack of proper fire exits. "If they search properly, they'll find Rana Plazas everywhere," said Israfil Hossain, a worker who was trapped in the building's ruins after it collapsed.

Bangladesh's top court clears factory disaster film

For two years after the disaster, the 25-year-old was too traumatised to return to the garment industry but finally took a job in a workshop in a Dhaka flat out of necessity. "These factories easily get workers like me to do their jobs. After all, we need to buy food to fill our stomachs."

The Rana Plaza tragedy triggered international outrage and put pressure on European and US clothing brands to improve pay and conditions at the factories that supply them.

Bangladesh's government increased garment workers' wages by 76 per cent immediately afterwards and improved labour laws to allow a record number of unions into factories.

But the initial push to improve safety standards has wavered, with factory owners dragging their heels on undertaking the expensive repairs deemed necessary by inspectors.

"A major accident can happen anytime," said Mesbah Rabin, managing director of industry safety monitor group the Alliance for Bangladesh Worker Safety. "There were several major fires last year. We're lucky no one has died."

Owner of collapsed Bangladesh factory to face murder charges

The Alliance, a group which represents North American retailers including Gap and Walmart was set up after the disaster, has certified only 24 of the 700 factories it has inspected as safe.

It has cut ties with 77 factories that failed to address safety concerns and asked the government to shut down another 36, but much more remains to be done.

"We are behind schedule and far behind schedule in many factories that were inspected a year or even two years ago," said Rob Wayss, executive director of the Alliance's European sister group Accord.

Bangladesh authorities have said all of the more than 1,500 factories they have inspected required safety improvements and hundreds of other smaller outfits still need to be investigated.

"We don't have funds to inspect these 800 factories, which are not registered with any trade bodies," factory inspection department chief Syed Ahmed told AFP.

Bangladesh's politically powerful manufacturers have pleaded for patience, saying further industry improvements were coming, and pointing to difficulty finding funds as a reason for the delays.

Faruque Hassan, senior vice-president of industry body the Bangladesh Garment Manufacturers and Exporters Association, said the group expects to finish safety upgrades this year. "We're confident we can complete a majority of the repairs by (the end of) 2016," he said.
COMMENTS
Comments are moderated and generally will be posted if they are on-topic and not abusive.
For more information, please see our Comments FAQ