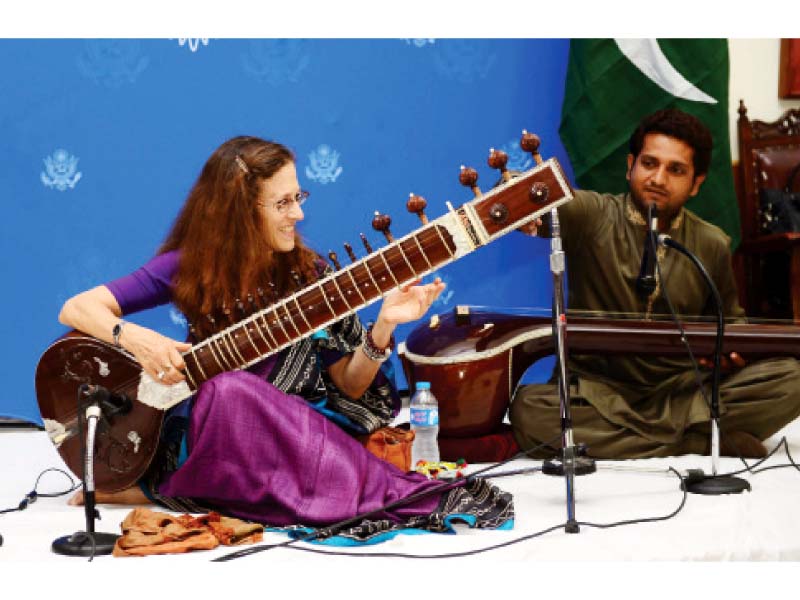 ---
LAHORE:



American Ethnomusicologist Amelia Maciszewski presented a sitar performance on Wednesday at the Government College University (GCU).




Amelia, a PhD in ethnomusicology from University of Texas, travelled to Pakistan after 40 years due to her deep interest in Sufism. She called the visit a spiritual journey. For her, Amelia said, spiritualism was something distinct from religion. She said she had a strong desire to visit the shrines of Sufi saints across the Punjab. The ethnomusicologist, who has published many research papers on South Asian music, said that Sufism formed the crux of her beliefs. "I believe Sufism has an eclectic nature and accepts everybody irrespective of their religion, caste, gender or creed," she said.

Earlier at the concert, she played Peace—her own light composition which has a folk-like ambience—and also sang the word peace in different languages of the world. "It sounds really idealistic but music has a vital role in promoting world peace. We fear people who are different from us. It's just because we don't understand them. With music one does not need a common language to communicate," she said. Amelia said it was disheartening to know that while performers in Pakistan had a following, the society had little respect and appreciation for those who taught music.

Published in The Express Tribune, April 22nd, 2016.
COMMENTS
Comments are moderated and generally will be posted if they are on-topic and not abusive.
For more information, please see our Comments FAQ