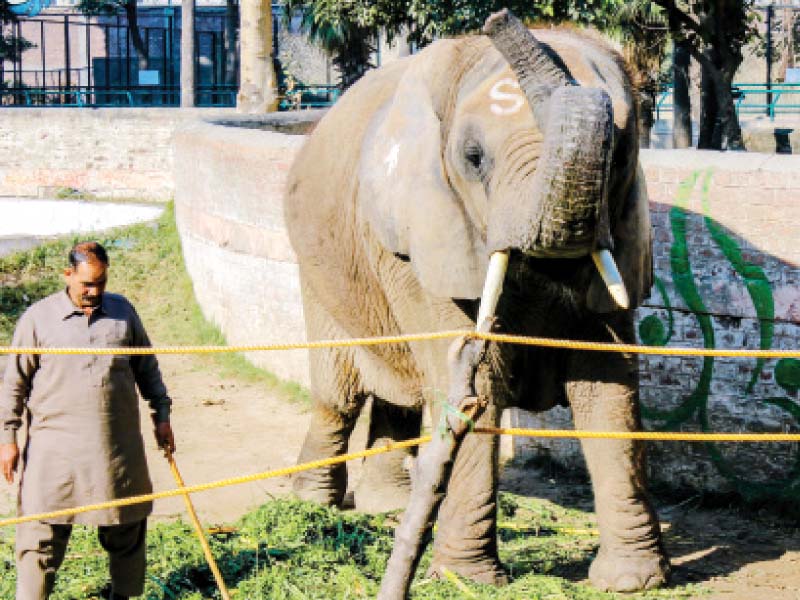 ---
LAHORE: Five-year-old Shahzeb Khurram ignored his mother's calls as he stood gaping at Suzi, the elephant, at Lahore Zoo. He had been trying to muster courage to pet her. Having failed twice, the boy wanted to try one more time, but his family was ready to move to other enclosures.

"I've come all the way from Sialkot to see Suzi!" he said. "We have already seen the deer and the lion but Suzi is my favourite."

Nagina Khurram, his mother, smiled as she allowed her son to linger a few more minutes. "I think he loves the elephant because it is the only zoo animal that he has seen up close."

Suzi is a favourite with the visitors. Every day, scores of people stand in front of her enclosure and watch as she interacts with her handler. Squeals of delight are heard from children when she raises her trunk to thank visitors for the treats they are allowed to give her.

Zoo keepers have restricted interaction with the elephant over the previous decade. Rides were stopped in 1999.

"We tried to restart rides in 2001 but Suzi was no longer willing to carry weight on her back," he says.

He said they had tried again in 2013. "Suzi responded well, but we still do not have authorisation to restart the rides."

The zoo director says elephants have a special bond with their trainers. "It's a sensitive job," Ali says.

"The handler knows that all elephants depend on them. The trainer is also the first to be attacked if the elephants gets angry."

Suzi was almost six years old when she was brought to Lahore Zoo in 1992. At the time, her trainer was Shan Muhammad, who bonded with the young elephant easily. "She was just a child. If you treat a child with love and care, they will respond to you," he says. "She is very smart. She is aware of areas she is supposed to go to and where she mustn't".

Yousuf Maseeh, her second trainer, met Suzi for the first time seven years ago.

"I had to clean her cage, bathe her and feed her to get on her good side. Once she understood that I was providing for her needs, she got comfortable with me," he says.

The two handlers keep a close eye on Suzi, ready to respond to small signs of irritation.

"When she is thirsty, she starts spitting in the air. It is important to pacify her because we don't want her to get angry," Muhammad says.

Most of the time, Muhammad says, Suzi is friendly animal.

"She likes the rhino next door. She communicates with him by raising her trunk," says Ali.

Ali says he takes her for a walk around the zoo before it is opened to public.

"It is important for her to exercise and maintain familiarity with her surroundings," he says.

Published in The Express Tribune, April 22nd, 2016.
COMMENTS
Comments are moderated and generally will be posted if they are on-topic and not abusive.
For more information, please see our Comments FAQ