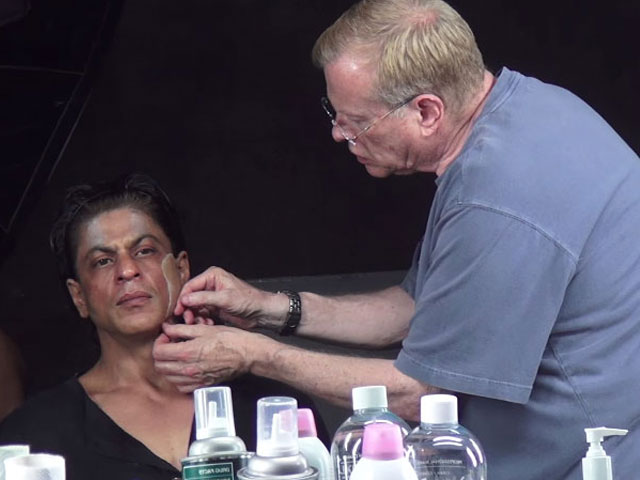 ---
Shah Rukh Khan's Fan has received largely positive reviews with the audience appreciating the Bollywood megastar's act as Gaurav Chandna.

The filmmakers have released an in-depth, behind-the-scenes video revealing how Shah Rukh was transformed into a look alike, obsessed fan of a superstar.

Turns out, it wasn't just impressive prosthetics that came into play - a combination of VFX, digital enhancing and prosthetics was needed to achieve the team's vision of Gaurav.

Shah Rukh Khan thanks Pakistani fans for tribute




Shah Rukh reveals that his transformation was a challenge since this was the first time prosthetics were being used to make someone look younger, rather than older.

Greg Cannom, the make up artist (who is also responsible for Brad Pitt's look in The Curious Case of Benjamin Button) was given several photos of Shah Rukh from his youth, and was asked to create a look that was just as young, but also slightly deformed, so that Gaurav could still be considered a different person.




In the video, Shah Rukh talks about the challenges of going through the grueling make up process every day.

"I've never sat for five hours in a place unless I'm very unwell," said the star.

5 reasons you need to watch Shah Rukh Khan's 'Fan'




Acting with the prosthetics proved to be even more challenging.

"The space between the silicone and your face fills up with sweat... it's like a bag of water," explains SRK adding, "You have to be very careful. You can't touch it, you can't scrape it."

When it came to SRK's famous nose, prosthetics couldn't be used since that would only make it look bigger, not smaller - that's where VFX came in.




The team also decided to make Gaurav smaller in size since a 20-year-old should have a smaller face.

Bollywood films don't always need a song and dance: Shah Rukh Khan




Watch the video here:


COMMENTS
Comments are moderated and generally will be posted if they are on-topic and not abusive.
For more information, please see our Comments FAQ