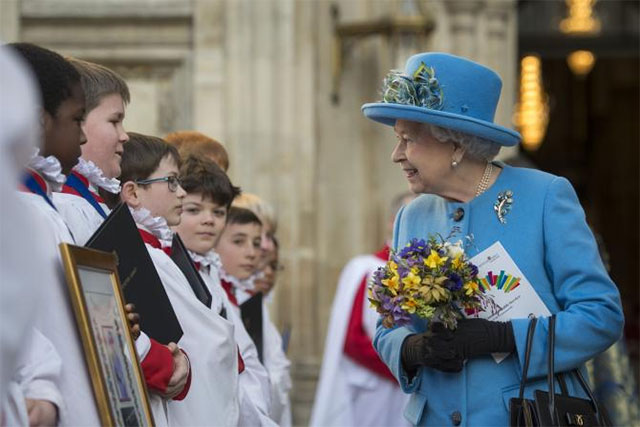 ---
Britain celebrates Queen Elizabeth II's 90th birthday on Thursday, with her eldest son Prince Charles paying tribute in a special radio broadcast and Prime Minister David Cameron leading a parliamentary homage.

The sovereign, who last year overtook her great-great grandmother queen Victoria to become Britain's longest-reigning monarch, is to mark the day in Windsor Castle with official engagements and a dinner with the royal family.

Queen marks 90th birthday, as popular as ever

The excitement was visible in the small town of Windsor, west of London, with special bunting put up in the streets and local shops selling souvenir tea and cakes as well-wishers gathered to celebrate an historic day.

"We are very proud of her. Everybody in the town is very excited. They pulled out all the stops," Carolyn Chisnall, a local resident, told AFP.

As military gun salutes are fired in London, Queen Elizabeth will unveil a plaque in Windsor for a new local walking tour in her honour and set fire to the first of hundreds of beacons being lit up around the kingdom.

"Her Majesty the Queen has lived through some extraordinary times in our world," Cameron will tell parliament at the start of an hours-long debate, according to extracts released by his Downing Street office.

"Throughout it all, as the sands of culture shift and the tides of politics ebb and flow, Her Majesty has been steadfast -- a rock of strength for our nation."

Buckingham Palace released three official pictures of the monarch taken by US celebrity photographer Annie Leibovitz.

They were shot in Windsor Castle, where she will host US President Barack Obama and First Lady Michelle Obama on Friday.

Queen Elizabeth becomes UK's longest-reigning monarch

Queen Elizabeth is pictured with four of her beloved dogs -- Willow, Candy, Vulcan and Holly -- outside the mediaeval castle in one photograph, and with her only daughter Princess Anne in another.

In the third she is surrounded by some of the youngest members of her family, including her two-year-old great-granddaughter Mia Tindall, who is shown clutching one of the queen's trademark handbags.

Crowds of supporters gathered in Windsor on Wednesday to wish the Queen an early happy birthday.

Well-wishers waving British flags greeted the monarch, dressed in pink, and her 94-year-old husband Prince Philip, as they visited a Royal Mail delivery office where two staff choirs joined to give a rendition of "Happy Birthday".

The royal family's popularity plunged after the death of Diana, Charles' first wife, in a car crash in 1997, which came soon after three of the Queen's four children got divorced and Windsor Castle was partially gutted by fire.

But overall Queen Elizabeth has shown an ability to unite her subjects through tumultuous times -- from the grim post-World War II years through the decline of the British empire to troubles that have rocked the monarchy.

Support for the monarchy remains high at 76 per cent, according to an Ipsos-Mori poll for King's College London.

"I'm so proud to be British," said Carole Earl, who lives near Windsor and pointed to a recent opinion poll showing the queen is "more popular than ever".

Young royal blood must wait as Queen celebrates landmark

The country is celebrating on Thursday and will do so again in May with a series of performances and concerts in Windsor Castle, and on the queen's official birthday in June when a street party is planned along The Mall, the processional route leading to Buckingham Palace.

John Loughrey -- a royal "superfan" -- said he had been sleeping on a bench outside Windsor Castle since Monday to be there for the big day.

"She is a unique monarch," said Loughrey, who was dressed in the red, white and blue colours of the British flag.

"She hasn't put a foot wrong... She modernises every 10 years to the standards people expect from her and she does that tremendously," he said, before launching into a rendition of the national anthem.

Kathy Bibby, who had come down from Manchester in northwest England, praised Queen Elizabeth's vitality.

"She carries out all her duties and never seems to complain," she said.

Pauline, another Windsor resident, said: "She is a very impressive lady, an icon really."

"I don't think she'll ever stop. She made a vow to serve her country until she will die."