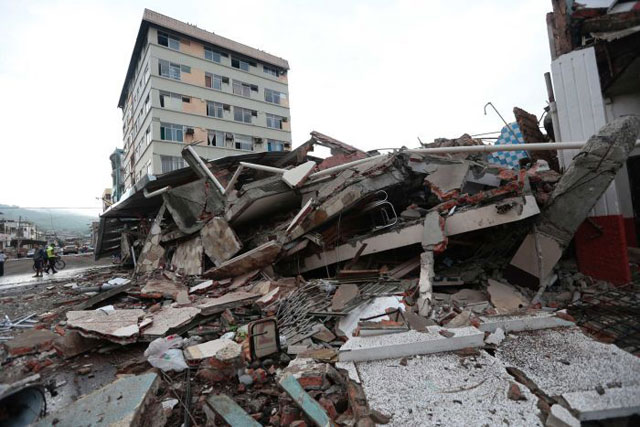 ---
WASHINGTON: A 6.1-magnitude earthquake has struck near the coast of Ecuador, just days after the South American country was devastated by a deadly 7.8-magnitude quake, US experts said Wednesday.

238 dead as quake devastates Ecuador's coast zone

The epicenter of the quake, which struck at 8:33 GMT at a depth of 15.7 kilometers (9.8 miles), was located 25 kilometers west of Muisne and 73 kilometers west-southwest of Propicia, the US Geological Survey said.

No tsunami warning has been issued.

The USGS indicated on its website that shaking was weak to light in the country's capital Quito and its biggest city Guayaquil.

Late Saturday, a 7.8-magnitude quake struck Ecuador's Pacific coast in a zone popular with tourists. The death toll from that quake currently stands at 480 but was set to rise sharply as after authorities warned that 1,700 people were still missing.

Anger erupts as 1,700 still missing in Ecuador quake

In an attempt to rescue survivors potentially trapped under the rubble, sniffer dogs and mechanical diggers were busy at work in the wreckage of coastal towns such as Pedernales and Manta as the stench of rotting bodies grew stronger under the baking sun.

International rescuers and aid groups rushed to help victims as searchers dug for families trapped in the debris of homes, hotels and businesses.
COMMENTS
Comments are moderated and generally will be posted if they are on-topic and not abusive.
For more information, please see our Comments FAQ