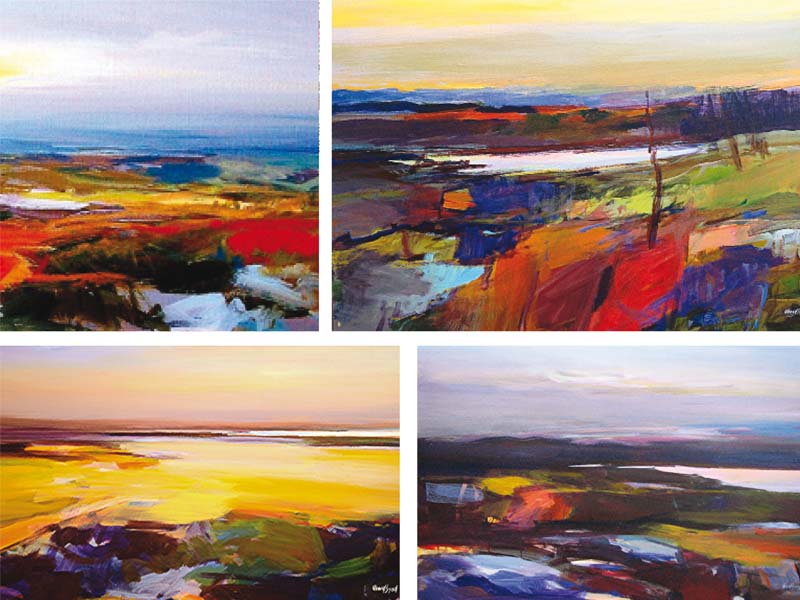 ---
KARACHI: How a simple, everyday natural phenomenon as sunlight affects the mind of an artist? This question is asked at artist Ubaid Syed's exhibition, 'Midnight Sun'.

The Pakistani-Swedish artist is fascinated by the beauty of sun on myriads of landscapes and has painted, quite unhindered, the light, colour and forms that may not be visible to the untrained eye. His exhibition is being showcased at VM Art Gallery.

Syed has solely made use of acrylic in his large canvases, while in other not so large ones he has made abundant use of oil pastels for their lustrous, polished finish.

Revisiting progressive intellectuals, radical feminists of the 70s' Pakistan




On the surface, it's the various shades of sun that capture one's attention. Falling on water, a hill, and greenery perhaps it's the implication of the angle that makes all the difference in his work.

"The midsummer nights in Lapland (largest region in Finland) and Narvik (town in Norway) have infinite subject matter in their beauty and diversity for an artist," said Syed while speaking about his works. "The form, colour, light and space at the two places also present a romantic disorder."

Some of his aesthetically appealing canvases are finely lined. The edging of his paint is defined and bordered. In others, Syed appears to be very rigorous and assertive in his thick strokes. However, what remain constant are flashes of colour, both in contrasting and complementary fashion, as if the artist has laboured hard to capture the natural beauty around him.

Two students who had come to view the work said that the realisation of how beautiful the world is hits you hard after looking at Syed's work.

Nature is all around us. We just need to portray Pakistan the way Syed has depicted Sweden. Pakistan is equally beautiful, said Shamim, a student of Bachelor of Arts.

Director and curator of gallery, Riffat Alvi, shared her pride in hosting yet another show of the artist. Alvi has previously curated Syed's solo show in 2007.

Art exhibition: Parveen Shakir's words visualised

Speaking about the exhibition, Alvi said that Syed is in awe of the beauty of Sweden. "Even after sunset, the light can be caught differently from several hills, he told me."

Syed's work is regularly showcased in Sweden. This is an evidence of how talented Pakistani artists actually are, remarked Alvi.

The show will continue till April 26.

Published in The Express Tribune, April 20th,  2016.

 
COMMENTS
Comments are moderated and generally will be posted if they are on-topic and not abusive.
For more information, please see our Comments FAQ