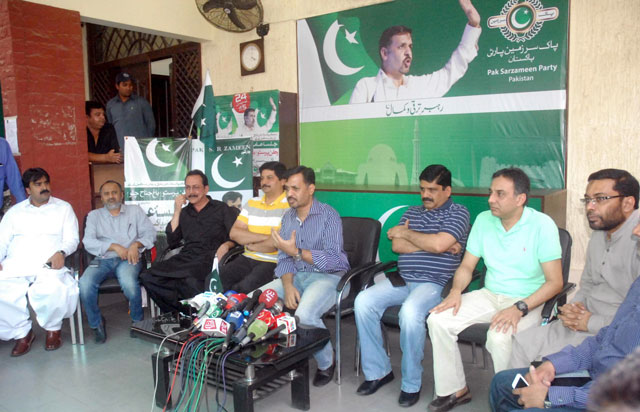 ---
KARACHI: As Muttahida Qaumi Movement (MQM)'s key leader from Punjab joined the Pak Sarzameen Party (PSP) on Tuesday at a press conference, Mustafa Kamal and his companions demanded that their former party clarify its position on the confessions made by chief Altaf Hussain, Mohammad Anwar and Tariq Mir to Scotland Yard admitting their connections with Indian spy agency Research and Analysis Wing (RAW).

While the MQM has had a weak setup in Punjab, Iftikhar Akbar Randhawa had been with the party since the last 25 years and was also part of the Rabita Committee.

At his residence-cum-party office in Defence Housing Authority (DHA), the former nazim questioned the MQM to address the allegations of taking funds from RAW. "[MQM senior leader] Nadeem Nusrat's press conference was on everything except what the three leaders confessed to Scotland Yard about RAW funding," said Kamal.

Former APMSO leaders, workers join Mustafa Kamal's party

He also spoke about the papers that were leaked last year and said that only eight pages of the total 800 pages of Tariq Mir's confessions had come out. "The Scotland Yard had given a very technical statement regarding the leaked papers, saying it was not a part of their record," he said. "But nowhere did they deny the content or say that it was incorrect." According to Kamal, the leaked paper was the property of Mir's lawyers who must have gone with him during the interrogation and noted down the briefing.

Regarding the other leaked document of businessman Sarfaraz Merchant, which the Scotland Yard had admitted was its own property, Kamal said according to the paper, Mir and Mohammad Anwar had categorically said that MQM is taking funding from RAW. "The recent press conferences by MQM have failed to answer the allegations and the country demands answers from them," he said.

Meanwhile, Randhawa said that he had spent 25 years with the party but was sorry about how the Mohajir community had been fooled by Altaf. He said that he was ashamed that he had written books about the MQM chief.

Published in The Express Tribune, April 20th,  2016.