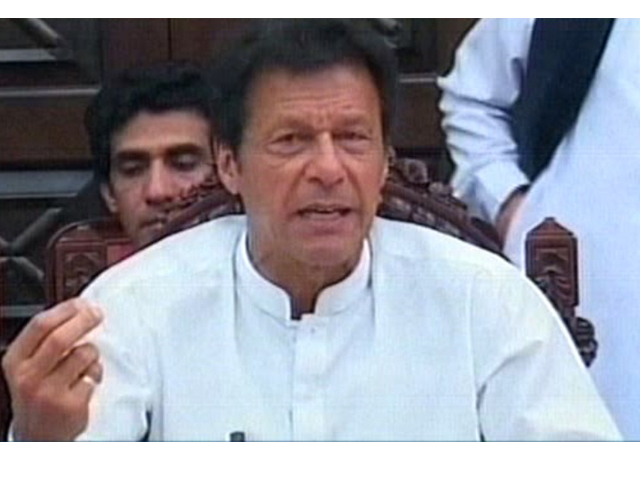 ---
Pakistan Tehreek-e-Insaf (PTI) chairman Imran Khan has come out in support of army chief General Raheel Sharif in the latter's country-wide fight against corruption.

"Every single Pakistani stands with the army chief Sharif stance's on across-the-board accountability in the country," Imran said, while addressing a press conference in Peshawar on Tuesday.

In a veiled reference to the Panama Papers saga, the army chief stressed on the need for an "across-the-board accountability" and for corruption to be uprooted to ensure the nation's prosperity.

Panama Papers prove Imran wrong: Rashid

"Across-the-board accountability is necessary for the solidarity, integrity and prosperity of Pakistan. Pakistan's armed forces will fully support every meaningful effort in that direction, which would ensure a better future for our next generations," General Raheel said during his visit to the Signal Regimental Centre in Kohat.

The PTI chairman once again asked the prime minister to answer the questions raised in the wake of Panama Papers.

"The prime minister will have to answer the masses [about his alleged offshore wealth]," he said.


Mr.PM Show us the money trail, if u're a democrat & not a monarch, u're answerable to the people who bring you in power #PanamaSharifReturns

— PTI (@PTIofficial) April 19, 2016
PM is answerable to the people for all the wealth he's been hiding in offshore companies without even declaring it #PanamaSharifReturns

— PTI (@PTIofficial) April 19, 2016


While giving the example of British Prime Minister David Cameron who recently made his tax returns for the last six years public, Imran said PM Nawaz should answer where his family made money from.

Panama Papers: PTI submits resolution against PTV blackout

"Nawaz's daughter and son's statements are contradictory," he alleged.

The government has been under tremendous pressure since the Panama Papers revealed the names of around 220 Pakistanis, including the PM's immediate family members, keeping offshore accounts in international tax havens.

Instead of responding to the controversial Panama Papers accusations, the prime minister and his party were using blackmailing tactics to silence him, concluded Imran.