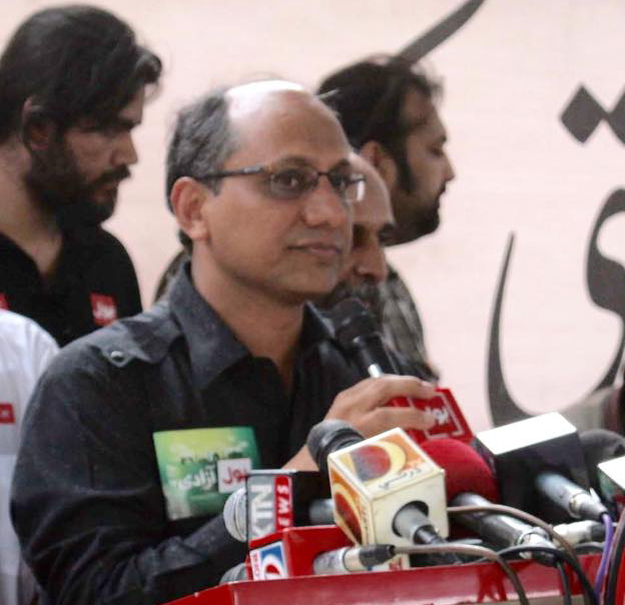 ---
ISLAMABAD:



Senators from the ruling Pakistan Muslim League-Nawaz (PML-N) and opposition Pakistan Peoples Party (PPP) passed the buck onto each other for failing to amend the relevant laws to improve the country's top anti-corruption watchdog.




The upper house of parliament on Monday took up a motion by Senator Saeed Ghani of the Pakistan Peoples Party (PPP) to discuss the overall performance of the National Accountability Bureau (NAB) and to present recommendations for improving it.

Law Minister Zahid Hamid assured the Senate that the government recognises the need to revamp accountability laws. He also presented a commitment from Prime Minister Nawaz Sharif who, Hamid said, was "keen" to revamp the NAB law.

But Leader of the Opposition Senator Aitzaz Ahsan dismissed the assertion by simply shaking his head from side to side.




Undeterred, the law minister proceeded to back up his claims by presenting statistics on NAB's performance.

"Apparently, they are really good," Hamid said, claiming that the anti-corruption watchdog has recovered Rs275 billion since its inception.

But as he came under fire from the opposition, Hamid took on the PPP, accusing it of not approving a draft law during its five years in government from 2008-2013.

"The law was being weakened to the extent that it became unacceptable for us and we presented four dissenting notes," he retorted while referring to the ruling PML-N's time on the opposition benches.

He went on to add that unlike the PPP regime, their government had not opposed private member bills in the National Assembly on this subject.

Earlier, Ghani had pointed out that all the powers prescribed under NAB law had been bestowed upon the organisation's chairman while around a dozen Directors General (DGs) have been working for years in violation of rules which stipulate that an officer can only be given acting charge of a senior position for only three months. "The PM has not given approval of even a single appointment," he said adding that "NAB was itself flouting its own laws."

Picking up on this argument, former law minster and ex-chairman Senate Farooq H Naek argued that there was a need to strengthen institutions and not personalities. He went on to lament that the NAB Ordinance, which had been created by former dictator General (retired) Pervez Musharraf, had never been debated in parliament.

"Both, the previous and incumbent regimes, have failed [to improve NAB]," Naek said while urging Senate chairman to constitute a house committee to look into NAB Ordinance.

Senator Farhatullah Babar continued with his oft-repeated critique of NAB, stating that it is used for "political re-engineering" rather than clamping on corruption with sacred cows left untouched.

Published in The Express Tribune, April 19th,  2016.