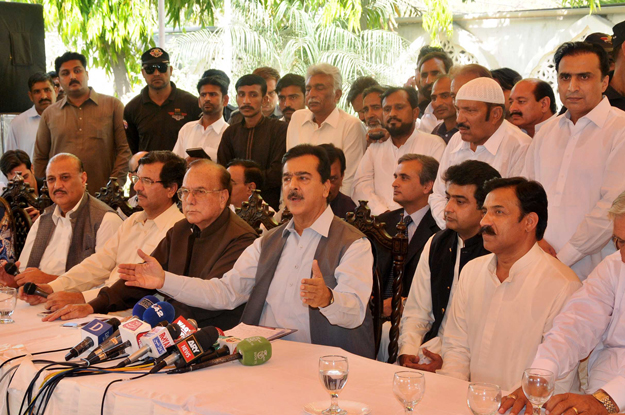 ---
LAHORE: "Offshore businesses of the prime minister's family have been exposed. There is no need any longer for more evidence in this regard," former federal minister Manzoor Wattoo said on Monday.

He was speaking at a farewell party arranged in his honour at the residence of former Punjab information secretary Raja Amir Khan.

Wattoo said the issue of offshore companies, owned by the children of the prime minister, was not an ordinary matter. He said the whole nation was on the same page with regard to corruption charges against the ruling party.

"The PPP stands by the people on the matter. We are also in contact with other parties," he said. The PPP leader said the party would form a strategy in consultation with opposition parties… and protest in and outside parliament against the scandal.

Wattoo urged Prime Minister Nawaz Sharif to declare his and his family's assets in and outside the country.

"How could Nawaz Sharif's children own huge amounts of money in 1990, when they were only 13, 14 years old? How did they transfer it abroad?"

He said the government had been unable to pass the fruits of democracy to the people. He said his party rejected the judicial commission, announced by Nawaz Sharif, to investigate Panama Papers allegations as an eyewash.

Wattoo said he had advised PPP chairman Bilawal Bhutto Zardari to form a team of youngsters to prepare for the 2018 general elections. "I have advised him to stay in the Punjab rather than visiting the province for short durations," he said.

He said he had advised Bilawal Bhutto Zardari to focus on re-building the party's strength. He said the PPP would continue to oppose what he called anti-people policies of the government.

He criticised the provincial government for being unable for seven years to get rid of Chotu gang. "The gang has exposed the false claims of good governance in the Punjab."

Wattoo said government's schemes had failed to provide relief to people. He assured the five-member committee – reorganising the party's Punjab chapter – of his support. He also thanked all office bearers, executive council members and workers for supporting him.

Former prime minister Yousaf Raza Gilani, Tanveer Ashraf Kaira, Raja Amir Khan, Chaudhry Manzoor, Nadeem Asghar Kaira, Rana Farooq Ahmed Khan, Jahanara Wattoo and Mian Manzoor Maneka paid rich tributes to Wattoo on the occasion.

Published in The Express Tribune, April 19th, 2016.
COMMENTS
Comments are moderated and generally will be posted if they are on-topic and not abusive.
For more information, please see our Comments FAQ