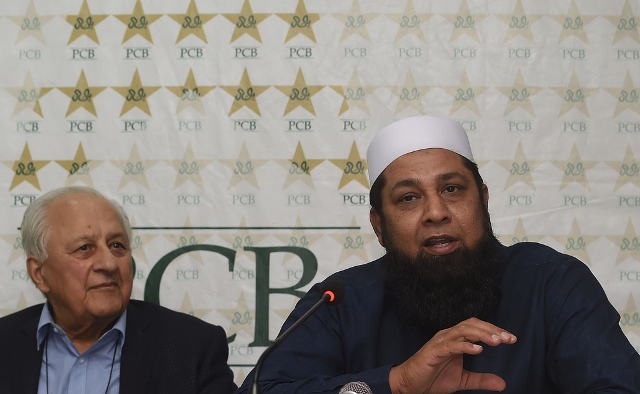 ---
The Pakistan Cricket Board (PCB) on Monday formally appointed former Test cricketer Inzamamul Haq as the chief selector of the national team and the 46-year-old said he was 'happy' to serve Pakistan in any capacity.

Inzamam, a veteran of 120 Tests and 398 ODIs, named former cricketers Tauseef Ahmed, Wasim Haider and Wajahatullah Wasti as a part of the new selection committee.

Inzamam to take pay cut for Pakistan chief selector post

"I am happy to serve Pakistan cricket in any capacity," said Inzamam while talking to the media. "I am thankful to the PCB for offering me this post. I will try my best to do justice to with my job. I also want to thank the Afghanistan Cricket Board for allowing me to take on the national duty as the chief selector. I will also like to thank the Afghan players for cooperating with me during my six-month tenure as the head coach."

He added: "I requested the PCB to allow me to select my own panel. I have shortlisted three members of the committee which include a spinner, a fast-bowler and a batsman: the names are Tauseef Ahmed, Wasim Haider and Wajahatullah Wasti."

Inzamam primed for chief selector's post

Inzamam then requested everyone to not expect result overnight. "We will have to stay calm for a while and not quick results. I hope people will see results in the near-future," he said.

Inzamam, who was part of the 1992 ODI World Cup winning team, further said that the head coach, captain and chief selector will have to come on one page if we want to produce results.

"We are here to support the team," he said. "We would listen to the opinion of the coach and captain. Our cricket is not at its peak right now. The captain, coach and selectors have to come on one page. If we want to improve our cricket, we will have to work together."

Inzamam requests time to decide on chief selector offer

While commenting on former T20I captain Shahid Afridi, Inzamam said that he was and still is the star of Pakistan cricket and when the time comes he will assess his form and then decide whether to play him or not.

He also hoped that he will be allowed to work independently without any external pressure as the chief selector of the Pakistan team.

Only cricketers to be a part of the Cricket Committee: Shaharyar Khan

PCB chairman Shaharyar Khan, who accompanied Inzamam during the press conference, said that they will name a new Cricket Committee in 10 days' time and it will constitute of former cricketers only.

"The Cricket Committee will comprise of cricketers only," said Shaharyar. "We will name the members in a few days. They will suggest changes in the domestic structure, in the role of curators and even about the balls that should be used."

Shaharyar further said that the National Cricket Academy (NCA) will now become an independent entity and former leg-spinner Mushtaq Ahmed will head it.

"We think the NCA should be independent," he said. "We want to bring in a reputed man who can handle all the responsibilities. They will have their own budget. It will take some time but not much. Meanwhile, we are appointing Mushtaq Ahmed as the new head coach of the NCA."

Shaharyar then announced that the biomechanics lab has started working at Lahore University of Management Sciences and the engineering department has tested all the machines which were left unused for the last eight years.