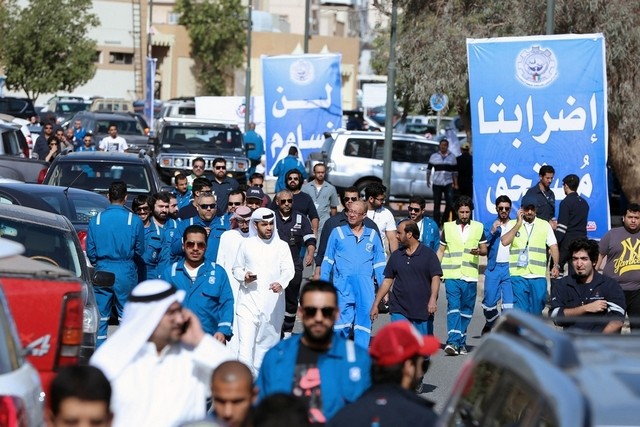 ---
KUWAIT: Kuwait reduced its crude oil output and refining production on Sunday as part of an emergency plan to help the OPEC member deal with the largest petroleum workers' strike in years.

Thousands of Kuwaiti oil and gas workers are striking to protest against a government plan for public sector pay reforms, although non-Kuwaiti workers in the industry are not on strike.

Unions have not said how long the walkout will last. Kuwait Oil Company (KOC) spokesman Saad Al-Azmi said in a posting on KOC's Twitter account that the company had cut crude output to 1.1 million barrels per day (bpd) from its normal production level of about 3 million bpd.

Kuwait oil workers begin open-ended strike

State refiner Kuwait National Petroleum Company (KNPC) has also reduced production, to some 520,000 bpd from 930,000 before the stoppage started on Sunday, Kuwait's state-owned news agency KUNA reported.

It quoted KNPC chief executive Mohammed Ghazi Al Mutairi affirming its "success ... in implementing the emergency plan and operating the company's three refineries". Khaled al-Asousi, a spokesman for KNPC, said without elaborating that there was an increase in fuel supply to the local market and to the ministry of electricity.

Export ports were operational and tankers were loading, he said. Oil sector spokesman Sheikh Talal al-Khaled al-Sabah said in remarks carried by KUNA that oil exports had not been affected by the strike and that Kuwait was capable of fulfilling the demands of its customers.

In a later statement on Twitter, al-Khaled said production rates were gradually improving and that normal levels were "not far off".

Kuwait's cabinet said in a statement carried by KUNA that the strike would hamper work in the vital sector and that it had authorised state oil companies to take all necessary steps to find labour and ensure production was not affected.

The cabinet also said it would take legal measures against any unacceptable practices. Sheikh Mohammad al-Mubarak al-Sabah, minister for cabinet affairs, told Reuters the strike was illegal as union members had refused to negotiate ahead of the stoppage.

"The members of the union were contacted by the committee headed by the manpower bureau. The members of the union refused to talk with them and went on strike. So they are in breach of Kuwaiti law. They can't strike without this (attempt at discussion)," he said, "With the oil price being what it is, and the fact that oil income is a huge part of the (national) income, it is very difficult if not impossible for the government to provide new financial incentives."
COMMENTS
Comments are moderated and generally will be posted if they are on-topic and not abusive.
For more information, please see our Comments FAQ