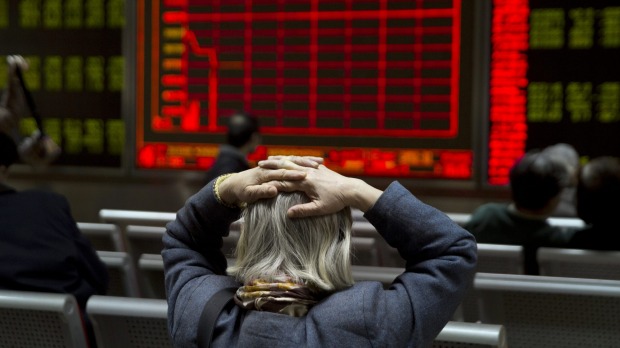 ---
SHANGHAI: China and Hong Kong stocks tracked regional markets lower on Monday morning, with sentiment soured by a tumble in crude oil futures after weekend talks among exporters failed to reach agreement on production cuts.

There's also mounting worries that the markets' robust rebound since February is not sustainable, as China's economic recovery - indicated by upbeat data recently - remains fragile.

Market watch: Stock market dips on low oil prices, auto policy

The blue-chip CSI300 index fell 1.1 percent, to 3,234.86 points by lunch break, while the Shanghai Composite Index lost 1.3 percent, to 3,037.80 points. In Hong Kong, the Hang Seng index dropped 1.2 percent, while the Hong Kong China Enterprises Index lost 2.1 percent.

China's central bank governor Zhou Xiaochuan told a meeting in Washington over the weekend that the country's economy is off to a good start in 2016, with economic indicators seeing a pick-up.

However, some analysts contend that many data pieces including iron ore, rebar and property prices are lagging indicators and will peak in the coming months, potentially dealing a blow to investors seeking growth signals. .

Greater than Rs1 billion: The best performing mutual funds

"Fundamentals can improve in the near-term before peaking. But the rally is now stretched, and risks are escalating," wrote Hong Hao, chief strategist at BOCOM International. "The crowd's hope for a growth revival will be dashed – once again, like its many false starts in the past few years," he said.

Mainland stocks fell across the board on Monday morning, with energy shares leading the decline. Some 18 oil exporting nations gathered in Doha, Qatar, in an attempt to agree on stabilising output at January levels until October 2016.

The deal fell apart after Saudi Arabia demanded that Iran join in.
COMMENTS
Comments are moderated and generally will be posted if they are on-topic and not abusive.
For more information, please see our Comments FAQ