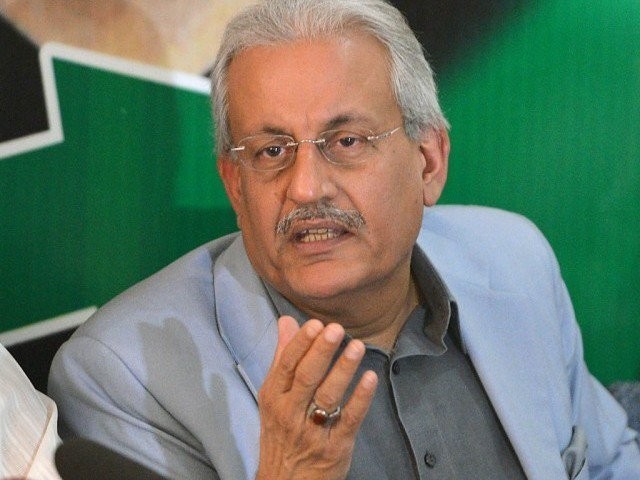 ---
ISLAMABAD: Senate Chairman Raza Rabbani has refused to lead a parliamentary inquiry into Panama Papers revelations that Pakistan's ruling Sharif family was among dozens of world politicians who had secreted their money in offshore holdings.

"I am grateful for the trust and confidence reposed in me by the opposition leader in the National Assembly [Khursheed Shah]," Rabbani said in a statement on Sunday. "But I'm not available for consideration amongst other probables."




Shah has proposed a parliamentary probe against 220 Pakistanis, including three scions of the Sharif family who have been named in documents leaked from Panamanian law firm Mossack Fonseca which specialised in setting up offshore accounts in tax havens.

His suggestions came a day after the opposition rejected a government-proposed inquiry commission headed by Justice (retd) Sarmad Jalal Osmany.

The two main opposition groups, the PPP and the PTI, are calling for an investigation by the incumbent chief justice of Pakistan (CJP). "But if the CJP doesn't agree [to head the commission], then a parliamentary commission led by Raza Rabbani should be given the task," Shah said on Saturday claiming that Rabbani would be acceptable to all political parties.

But Rabbani explained on Sunday that his position as Senate chairman might, in fact, "have the potential of creating a conflict of interest" since he was the custodian of the rights of the Senate in particular and parliament in general.

He added that any inquiry into the Panama Leaks involved complicated questions of facts, laws and cross-jurisdictions which "require specialisation in the said fields". Rabbani explained that he "lacks expertise in the field of investigation of white collar crimes," a prime requirement in this case.

He went on to add that since he has his "own viewpoint with reference to the effectiveness or otherwise of a parliamentary committee," it was not appropriate for him to accept this task at this stage.

PM, family will appear before inquiry commission Minister for Information Pervaiz Rashid said on Sunday that Prime Minister Nawaz Sharif and his family had always respected the courts and that they would appear before the inquiry commission probing the Panama Leaks.

Speaking to the media in Okara, he reiterated that the prime minister and his family had earned their wealth lawfully and that all of their business transactions were above board. Even former dictator General (retd) Pervez Musharraf could not prove corruption charges against Nawaz.

Rashid added that the opposition was engaged in negative politics on the Panama Leaks and that once the inquiry commission presented its report, the truth would come out. "Those agitating the Panama Leaks cannot stomach the development undertaken by the government."

Published in The Express Tribune, April 18th,  2016.