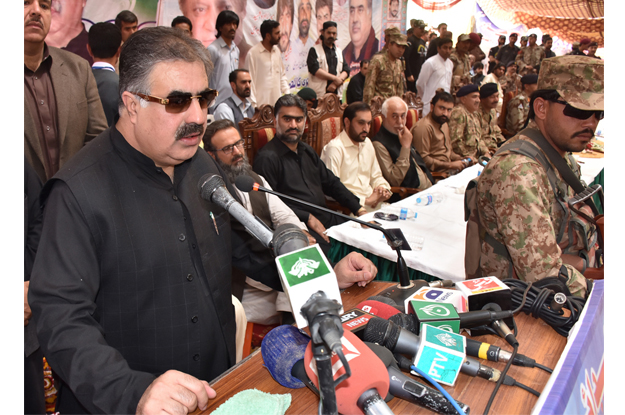 ---
QUETTA: Balochistan Chief Minister Nawab Sanaullah Khan Zehri said on Saturday that until patriotic-minded tribal leaders are alive neither the country nor the province could be harmed, insisting that the political and military leaderships have common goals.

The chief minister made these remarks on the eve of the third anniversary of the martyrs of Anjeera, which was observed in Jhalawan and others parts of Balochistan on Saturday.

Pointing out that Balochistan is not the personal property of those sitting in London and Switzerland, adding that a handful of people cannot harm Pakistan at any cost. He said that the plots being hatched with the Indian intelligence agency RAW would not be allowed to be successful.

He invited Hairbiar Marri and Brahamdagh Bugti to become part of the country's mainstream politics if they considered themselves well wishers of Pakistan. "If the people of Balochistan elect them as their leaders, I will respect their mandate," he said.

He said that the military and civil leaderships of the province would not allow the blood of the innocent to be shed, adding that no one would be allowed to impose their ideology through the force of gun.

He said that those enticing Baloch youth for independence are actually playing with their lives while sitting abroad themselves. At the same time, he called upon the youth to lay down arms and join the mainstream.

Commander Southern Command, Lt General Amir Riaz said that the sacrifices of Nawab Zehri's family on 16th April, 2013 have resulted in peace in Balochistan.

Provincial Ministers Muhammad Khan Shahwani, Muhammad Aslam Bizenjo, Mir Sarfaraz Bugti, MNA Sardar Kamal Khan Bangulzai and several tribal leaders were present on the occasion.

He expressed gratitude to the thousands of people who attended the event.

Published in The Express Tribune, April 17th, 2016.
COMMENTS
Comments are moderated and generally will be posted if they are on-topic and not abusive.
For more information, please see our Comments FAQ