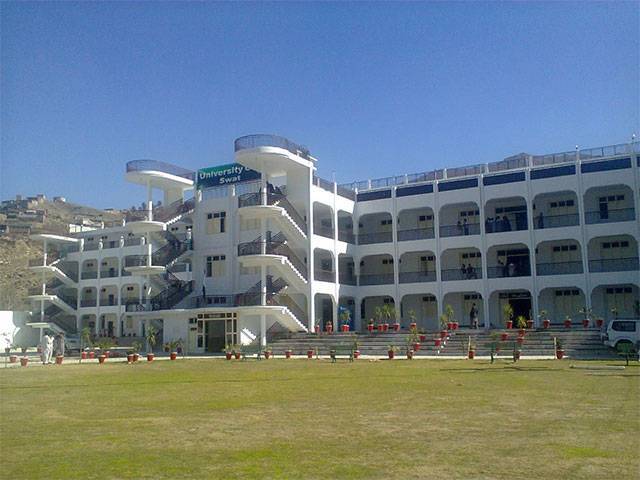 ---
PESHAWAR: University of Swat has said a notification that banned male and female students from interacting with each other on the varsity's premises, is fake. The notification generated uproar on social media and attracted grave criticism.

On April 14, university's chief proctor, Hazrat Bilal, had issued a notice prohibiting all male and female students from sitting or walking together within or outside the campus. The notice further stated a penalty of between Rs50 to Rs50,000 will be imposed on those found violating the rule.

Here's why students at Lahore's BNU covered campus walls with sanitary pads

The notification added a meeting will be held with the parents of students who are caught together.

According to a statement issued by the varsity, the notification is fake and the university is making a consistent effort to ensure equal educational opportunities for both male and female students.

Committee probe

Aftab Ahmad, the varsity's spokesperson, told The Express Tribune a four-member committee has been constituted to investigate the matter.

"The chief proctor issued the notification without seeking approval from the vice chancellor and registrar," the spokesperson said. "He had been suspended till the committee submits its report."
"The university does not believe in gender discrimination and has not established a separate university for women in Swat," he said.

He added policy-related notifications were only issued from the registrar's office. "Other officers are not entitled to issue these kinds of notices," he said. "The committee would submit its report in four days."

Mixed reaction

The notification was largely criticised on social media, while some shared it on Facebook and Twitter and other social media platforms.

People also commented in favour of the order and suggested other universities in Khyber-Pakhtunkhwa should also implement the suit.

Meanwhile, civil society representatives lashed out at the university's administration, saying the university had no right to interfere in the personal lives of the students.

Video of Swat woman being whipped was fake, SC told

Even the university students were also divided over the notification. Some called it the need of the hour, while some criticised the university administration for issuing the notification.

While speaking to The Express Tribune, Haroon Khan, a student at the varsity, said, "Being Muslims and Pukhtuns, we should respect women but it is not allowed that a man walks or sits with a woman."

He appreciated the notification and suggested that such rules should be implemented in all other varsities.

Another student said, "The university should not interfere in the personal lives of any student."

He demanded the authorities investigate and take action against those who issued the notification.

Published in The Express Tribune, April 17th, 2016.