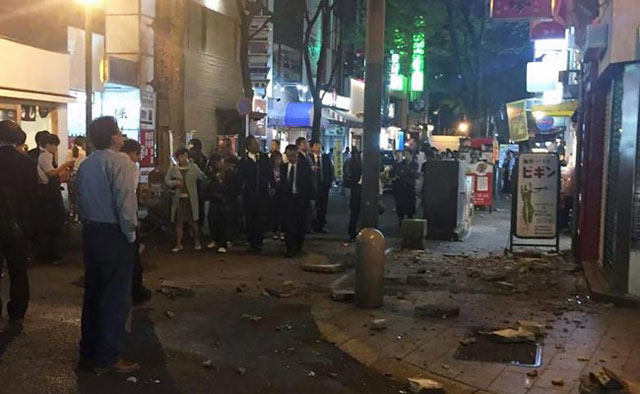 ---
TOKYO: A powerful 7.3 magnitude earthquake struck southern Japan early on Saturday, killing at least 16 people, injuring hundreds more and trapping people in collapsed buildings, barely a day after a quake killed nine people in the same region.

Rescuers dug through the rubble of collapsed buildings and mud and debris on Saturday to try and reach those trapped, but continued aftershocks hindered rescue efforts and fueled fears of more powerful quakes.

Japan plants shut down after quake, fuels economic fears

"We have already seen of several of the mid to upper 5 plus magnitude range, and over the next several days and weeks, we would not be surprised to see more earthquakes of this size," said John Bellini, a geophysicist with the U.S. Geological Survey (USGS).

Factories producing auto parts and tech components for companies including Sony Corp (6758.T) and Honda Motor Co (7267.T) halted production as they assessed the damage.

Prime Minister Shinzo Abe said rescue efforts were critical with wet weather forecast overnight, which could further damage weakened buildings and cause landslides.

"Nothing is more important than human life and it's a race against time," Abe said at a government meeting after the disaster. "I want rescue activities to continue with the utmost effort."

The epicenter of the quake was near the city of Kumamoto on the southern island of Kyushu and measured at a shallow depth of 10 kms (6 miles), the USGS said.

Damage from Saturday's quake covered a wide area with reports of fires, power outages, collapsed bridges and gaping holes in the earth. Residents near a dam were told to leave because of fears it might crumble, broadcaster NHK said, while the 400-year-old Kumamoto Castle in the center of the city was badly damaged.

The quake triggered a tsunami advisory which was later lifted and no irregularities were reported at three nuclear power plants in the area, a senior government official said. People still reeling from Thursday's 6.4 shock poured onto the streets after the Saturday earthquake hit at 1:25 a.m. (1625 GMT).

Strong quake in Japan kills at least nine, nuclear plants safe

TV Asahi showed rescue efforts for what it said were 11 people trapped in a university apartment in the town of Minami Aso and NHK reported that people were trapped in a nursing home in the town of Mashiki.

NHK reported 16 deaths and more than 1,000 people treated in hospitals.

Chief Cabinet Secretary Yoshihide Suga said nearly 80 people were believed trapped or buried in rubble. Extra troops would be sent to help, with up to 20,000 due by Sunday, as well as more police, firefighters and medics, he said.
COMMENTS
Comments are moderated and generally will be posted if they are on-topic and not abusive.
For more information, please see our Comments FAQ