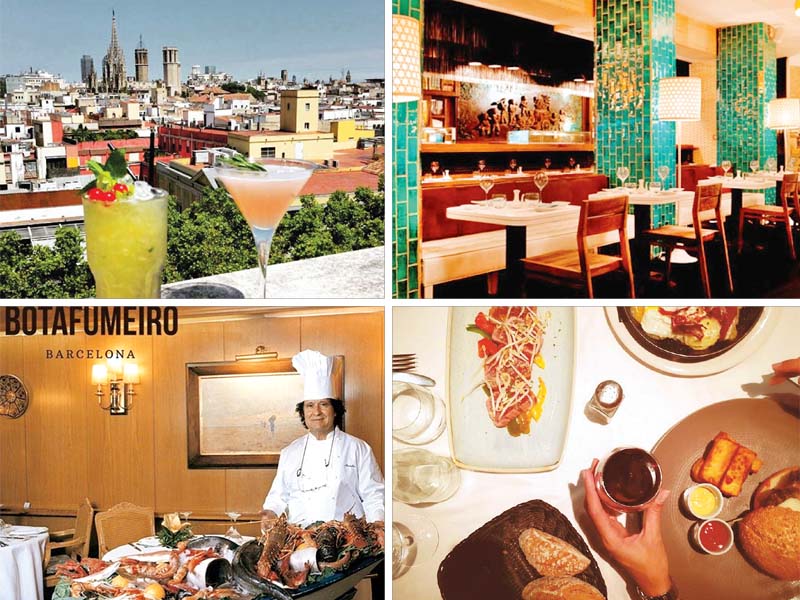 ---
Travelers, sisters and foodies, Anushee and Ayla Hashwani list the top restaurant options for a glamorous city break in sunny Barcelona
INSTAGRAM: @botafumeirobcn

Botafumeiro

Where, Exactly?

Carrer Gran de Gràcia, 81, 08012 Barcelona, Spain


INSTAGRAM: @eatinbcn

Miu

Where, Exactly?

Carrer de València, 249, 08007 Barcelona, Spain


INSTAGRAM: @dcamos

If you want a change from the usual Spanish cuisine, head over to Miu for traditional Japanese food with a modern twist. This cosy joint promotes harmony and an oriental aura with a turquoise and white colour scheme, large Asian lamps and light teak woodwork. It serves Japanese cuisine with great character and depth, as each dish is permeated with Mediterranean spices, bringing together a diverse burst of flavors. The restaurant's truffle noodles and Italian-tasting sushi called the 'Italiano' are a must-try.


INSTAGRAM: @thestylishfreelancer

Balthazar

Where, Exactly?

Carrer del Rosselló, 189, 08036 Barcelona, Spain

This place serves up a soulful collection of Mediterranean cuisine dishes including a delicious tapas menu for the locals and tourists alike that frequent the place on a daily basis. With its sleek and modern interior, Balthazar provides a cosy setting and a friendly, buzzing ambiance. This restaurant never seems to be empty. The best time to pop into Balthazar is for brunch or for a late lunch in between shopping.

Our recommendation is to start off with some appetisers. We recommend the hummus and guacamole dip that comes with fresh oven-baked rustic bread.

For the entrees, we suggest the beef carpaccio with parmesan and chopped rocket. They serve these with a portion of short, toasted bread sticks. Ask the waiter to drizzle on the lemon-infused, virgin olive oil and balsamic vinegar for extra flavouring.

If you are a pasta fiend, we recommend the spinach and pesto tagliatelle. This dish is topped off with gorgonzola cheese and fresh basil.


INSTAGRAM: @hotel1898

Hotel 1898

Where, Exactly?

Les Rambles, 109, 08002 Barcelona, Spain

Definitely a must-try spot. Enjoy a beautiful 360 degree view over Barcelona from Terrace La Isabela, the terrace restaurant at Hotel 1898. Hidden within the hustle and bustle of Las Ramblas Road, La Isabela is the perfect spot to escape the over-crowded streets of Barcelona and enjoy casual dining, relaxed music and stunning views. Do not leave Barcelona without trying the Burger 1898. Best time to go is before sunset or for dinner.