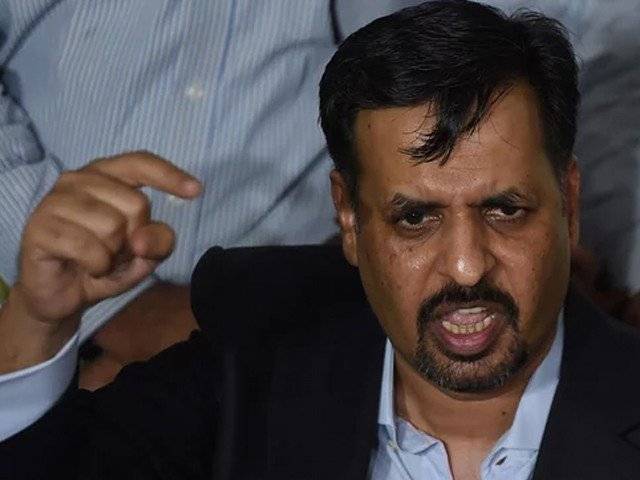 ---
KARACHI: For the first time since his return, Mustafa Kamal has urged the government to ban the Muttahida Qaumi Movement (MQM) so that its political operations and activities could be permanently curtailed.

"Parties who have relations with RAW should be banned," said the former Karachi mayor in an indirect reference to the MQM, whose alleged links with the Indian intelligence agency have been hotly debated over the past few months.

The MQM dissident, who has formed his own party named Pak Sarzameen Party (PSP), was speaking to journalists at his residence in DHA on Thursday before departing for Mirpurkhas and Hyderabad.

Citing  Shaharyar Khan Niazi, a former British diplomat working in Karachi, Kamal said that the British authorities had briefed former interior minister Rehman Malik about the party's connections with RAW.




"Even if these allegations are five percent true, such parties and politicians should not be allowed to operate," reiterated the former MQM senator. Despite these charges, he added, the MQM was working freely, its offices were still open and Altaf Hussain was addressing his workers openly.

"We want the government and the authorities to take notice and declare an official stance on this RAW issue," he said. "Otherwise parties like mine will become silent and won't speak the truth in the future."

Speaking about Niazi, Kamal said the diplomat had confirmed about a meeting in Dubai where MQM leaders and PPP's Rehman Malik were informed about the party's connection with RAW.

The PSP leader said Altaf, Tariq Mir and Mohammad Anwar should tell the public the truth, and the confessions they had made while talking with the London police.

He also accused MQM's veteran leader Dr Farooq Sattar of not doing anything despite knowing everything, and called him an Indian agent as well.

Kamal also said the MQM leaders were not even loyal to their chief and were waiting for his death to take over his belongings and position.

Reaction

Responding to Kamal's outburst, MQM spokesperson Aminul Haque asked the former Karachi mayor to prove his allegations in court instead.

"Such allegations have been made against us in the past too without anything being proven in court." the MQM Rabita Committee member said.

Published in The Express Tribune, April 15th, 2016.