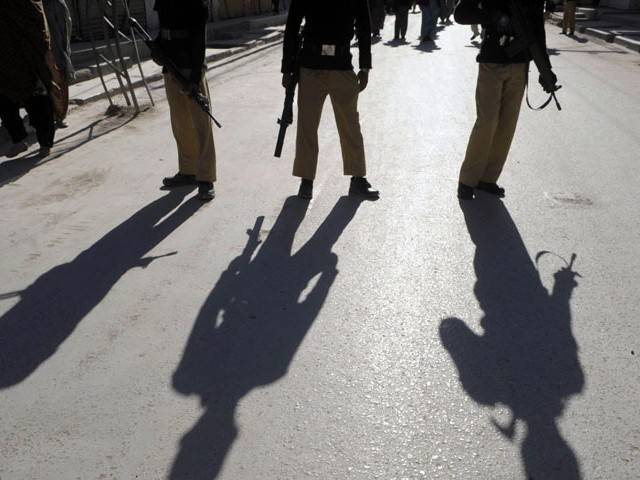 ---
RAWALPINDI: Rawalpindi police on Thursday registered a murder case against Inspector Muhammad Yar, station house officer of Saddar Bairuni police, and three inspectors, Raja Ammad, Jahangir Bhatti, and Khalil Bhatti for allegedly killing Abdul Haq in a "fake police encounter".

Sabiha Bibi, wife of deceased Abdul Haq, in her complaint had alleged that the police arrested her husband on June 6, 2015 from their house at Chakri Road in Rawalpindi.

She said that the police told her that here husband was arrested in connection with a robbery and murder case. Abdul Haq worked as a conductor on local inter-city bus service.

Bibi said that the Saddar Bairuni police arrested her husband in the case of murder of son of Saith Azam, a prominent local leader of the Pakistan Muslim League-Nawaz (PML-N).

She noted that the police also arrested her brother Jamshaid Khan.

Later, the police released Jamshaid and arrested his brother Farhan, she added.

Farhan is currently in Adiala Jail.

The complainant said that the SI Raja Ammad allegedly asked her to pay Rs400,000 for safe release of Abdul Haq.

Bibi further alleged that the police told her father Jamrud Khan that they needed to visit the District Headquarter Hospital to collect the dead body of Abdul Haq.

She said that later the police registered a case of police encounter saying that Abdul Haq was shot dead in an encounter with police on Girja Road.

The complainant had to move the Lahore High Court's Rawalpindi bench for registration of the murder case, after she said the police refused to register the case.

The LHC, on April 7, 2016, directed the city police officer to register the murder case against the policemen.

The complainant along with her lawyer met Regional Police Officer Wisal Fakhar Sultan Raja for registration of the case on April 12.

The police on Thursday registered the murder case and had appointed Sub-Inspector Arif Hussain from Homicide Investigation Unit as the investigation officer.

Published in The Express Tribune, April 15th, 2016.
COMMENTS
Comments are moderated and generally will be posted if they are on-topic and not abusive.
For more information, please see our Comments FAQ