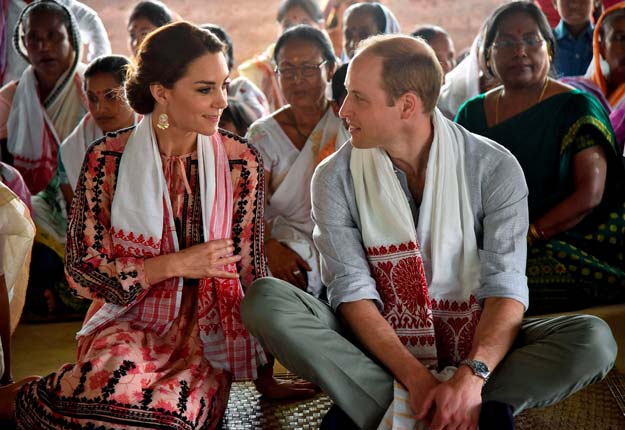 ---
THIMPHU: Britain's Duke and Duchess of Cambridge arrived on Thursday in the tiny Himalayan kingdom of Bhutan, where they will meet its glamorous young royal couple for the first time.

Prince William and wife Kate touched down at Bhutan's only international airport, nestled deep in a river valley, to be welcomed by members of the royal family and receive flowers from a boy and girl wearing traditional dress.

Kate Middleton's flying dress coverage sparks Twitter outrage

Bhutan's fifth king, Jigme Khesar Namgyel Wangchuck, and Queen Jetsun Pema will meet the British royals in a private audience and later host them to dinner, besides treating them to a display of archery, the national sport.

The 25-year-old queen, born a commoner, as Kate was, is viewed as a style icon across much of Asia. Both couples have started families, with Jetsun Pema giving birth to her first son, the crown prince, this February.

"The prince and princess of England have never visited Bhutan, so, I think it is a great moment for Bhutan," said Tsering Pem, a resident of the capital, Thimphu, where the 16th-century seat of government was given a fresh coat of paint before the visit.

"Two of the best royal couples in the world are meeting, so I think it is pretty exciting," she said.

10 highlights from Prince William and Kate's Bollywood gala

During their two-day stay the British royals, who have been touring India, will trek to the Tiger's Nest, an ancient Buddhist monastery perched 3,000 metres (10,000 feet) up a mountain.

William's father, Prince Charles, failed to complete the steep ascent to the Tiger's Nest during a visit in 1998, opting instead to paint a watercolour of the scene.

Their week-long tour ends back in India next Saturday at the Taj Mahal, revisiting the scene of a solo - and much photographed - visit in 1992 by the late Princess Diana, to the monument to love.
COMMENTS
Comments are moderated and generally will be posted if they are on-topic and not abusive.
For more information, please see our Comments FAQ