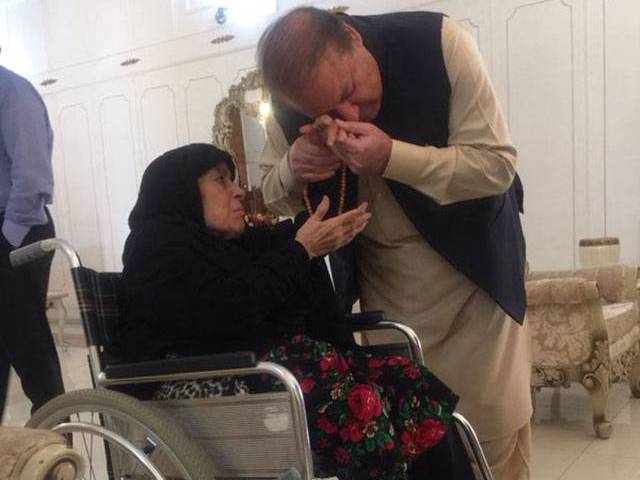 ---
LONDON:



Prime Minister Nawaz Sharif on Wednesday sought to quash rumours 'churned out at home by certain quarters about his government' following the Panama Papers revelations that his family had offshore holdings.




"Nobody will be allowed to derail Pakistan's journey on the path of development. The nefarious designs of certain elements to hinder the wheel of development will not materialise," he said while speaking to journalists after his arrival in London.

PM Nawaz forms judicial commission to probe Panama Papers

"No negative efforts should be in place to hamper progress of the country, nor Pakistan can afford this," he said.

Though he did not name anyone, he was ostensibly referring to Imran Khan's Pakistan Tehreek-e-Insaf that has threatened to stage a sit-in outside the Sharif family house in Raiwind if the government does not order an impartial investigation into the Panama Leaks.

Premier Nawaz has already ordered an inquiry by a retired judge of the Supreme Court, but the PTI is calling for an investigation by the country's top judge.




Rumours swirled in the media even before the prime minister's departure that he was travelling to London to seek support of PPP Co-Chairman Asif Ali Zardari in the face of PTI's campaign against his government. "I am visiting London in connection with my medical checkup," he said.

PM Nawaz's family hit back after Panama Papers leak

Premier Nawaz said he has already addressed the nation over the Panama Leaks and wondered what were the illegalities or violation of laws in such issue. He added that Interior Minister Chaudhry Nisar has already explained the government's viewpoint over the formation of a commission to probe the issue.

In a clear reference to Imran Khan, he said 'a personality' was hell-bent on creating hurdles for the government through his 'queer tactics'. "A personality through his antics is alienating himself,' he added.

The government had tolerated such show in the form of a Dharna in 2014, he said advising 'such elements' to desist from their negative tendencies of harming democracy. He, however, appreciated the PPP for not supporting 'these elements'.

Premier Nawaz said he enjoyed good ties with Asif Zardari, adding that he had warmly met the PPP leader when the latter completed his term as president of the country. Similarly, Nawaz was also welcomed by Zardari when the PML-N got a heavy mandate in the 2013 elections.

"Such democratic norms aimed at strengthening democracy and rule of law in the country should be promoted and safeguarded," he said.

The PM said his government was committed to fast-track development. The Thar coal project is being inaugurated for the first time in the country's history which would generate inexpensive coal power, he said, terming the project as a 'game changer' for the country's economy.

PM Nawaz departs for London amid Panama Leaks controversy

He said his government attached high priority to such development projects and hinted that gas load-shedding would end by 2018. He lamented that previous governments created load shedding woes while on the other hand, his government was making efforts to end it.

The prime minister linked completion of these development projects with welfare of the masses, thriving of industries, exports, production, creation of job opportunities and price reduction in the daily commodities, etc.

He said the government should be supported as it was working for provision of relief to the 200 million people and referred to his role as leader of the opposition during the PPP government, when he offered his complete support to the then government in case it succeeded in delivering on its promises.

He said neither they did such politicking of bringing down the elected governments, nor supported such steps which could have weakened the democratic system. About relations with India, he said that both the countries should move forward like good neighbours by resolving their outstanding issues including Kashmir. He said an Indian spy was arrested in Balochistan and such interference into Pakistan must stop.




Published in The Express Tribune, April 14th, 2016.
COMMENTS (27)
Comments are moderated and generally will be posted if they are on-topic and not abusive.
For more information, please see our Comments FAQ