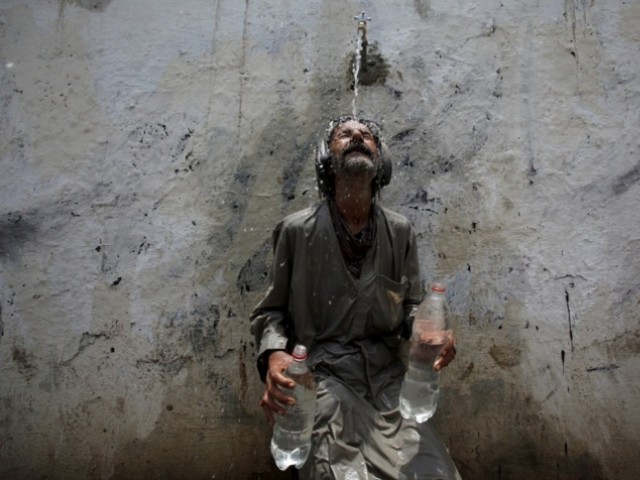 ---
KARACHI:



A plan to deal with the expected heat wave in Karachi this year was submitted on Wednesday at the Sindh High Court by the provincial and local government authorities.




The action plan was submitted before the division bench, headed by SHC chief justice Sajjad Ali Shah, during the hearing of identical petitions seeking judicial probe into the deaths of over 1,000 people during the heat wave that struck Karachi last year.

Heatwave likely to hit by end May or early June: Met dept

During Wednesday's proceedings, additional advocate-general Ghulam Mustafa Mahesar submitted the compliance report, reflecting proportionate measures adopted by the provincial government to save the people from the expected heat wave, which is likely to hit the city somewhere in May and June this year.

The report contained a statement on behalf of Karachi commissioner Asif Hyder Shah, who said that 171 first response centres with a capacity of 879 beds have been set up in all six districts of the metropolis with the help of the health department. Most of these centres will work round the clock. In addition to this, there are 53 tertiary-care private and government hospitals with the capacity of 1,796 beds.

Under the plan, there will be ambulances, including 126 medically equipped ones, with the capacity to transfer 688 patients. The divisional administration and some private groups have planned to install road side water kiosks (sabeels) at all important points of the city to keep commuters and by-passers hydrated.

The commissioner said the K-Electric has clearly been instructed to minimise the duration of load-shedding during the extremely hot days and ensure uninterrupted power supply to vital installations, such as the Karachi Water and Sewerage Board and hospitals. The meteorological department has also been directed to issue early warnings for the heatwave.

Karachi braves record heatwave this month




Energy conservation plan

Under the energy conservation plan, lighting on all billboards will be banned from mid-April to mid-August, said the commissioner's report. Commercial markets will be closed by 10pm, except for Ramazan and wedding halls will also be closed early.

The stakeholders also decided to make sure the water board carries out maintenance and forms a back-up plan long before the expected summer days.

Electricity plan

Meanwhile, K-Electric management cite a report issued by the meteorological department that the city will see a more intense heat wave this year than the one that hit last year. Keeping this in mind, the power utility said it had taken several special measures to minimise the impact on consumers.

A thorough system-wide analysis had been carried out during which those city areas that had experienced higher frequency of faults or serious faults during and after the summers had been identified as 'hot spots' and given special maintenance attention.

Heatwaves are practically undetectable

In the past one year, KE claimed that 58 feeders, 2,300 pole-mounted transformers (PMTs) and 119 sub-stations had been added in the system. KE supply system and Dhoraji pumping stations have been upgraded and the water board was requested to improve their water pumps as well, said a KE statement. The fault-prone equipment from the 11KV higher tension cables to PMTs is being replaced to improve system reliability, it added.

KE has also requested the commissioner to allow its teams to work round the clock without any interruption. The number of teams working on ground has been doubled, it added.

A copy of the plan was provided to the petitioner's lawyer, who sought time to go through the details and file a reply. The two judges adjourned the hearing till April 15.

Published in The Express Tribune, April 14th, 2016.